10 Delicious Snack Recipes to Spice up Your Kitty Party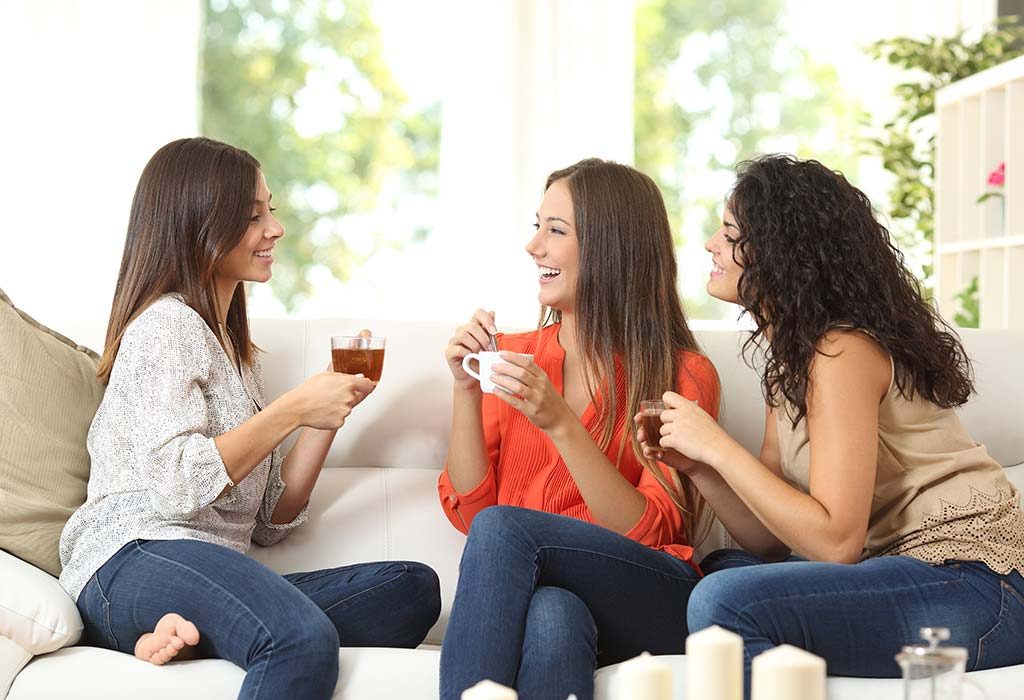 In this Article
Kitty parties are a popular way for ladies to socialise and mingle. It is really fun organising a kitty party for your gang. You pick a theme, select interesting games and think of gift and prizes. Forget something? Yes, the snacks! A lip-smacking menu is all you need to make a kitty party a raving success.
10 Mouth-watering Kitty Party Snack Recipes
Here are some exclusive and delicious kitty party snack ideas for your guests to have an unforgettable time.
1. Oats Cutlet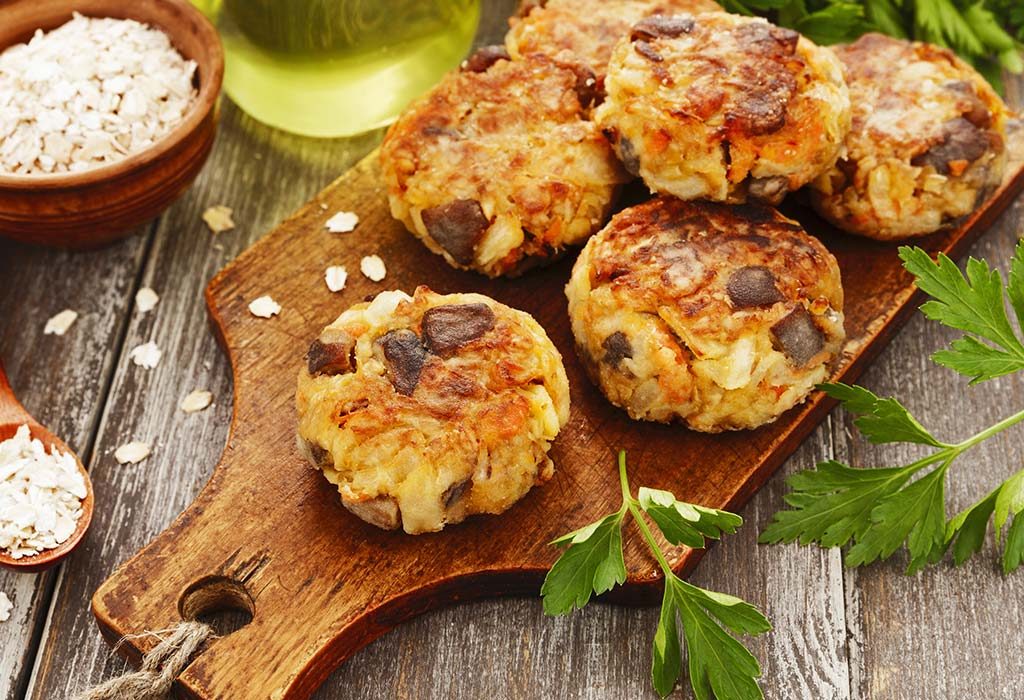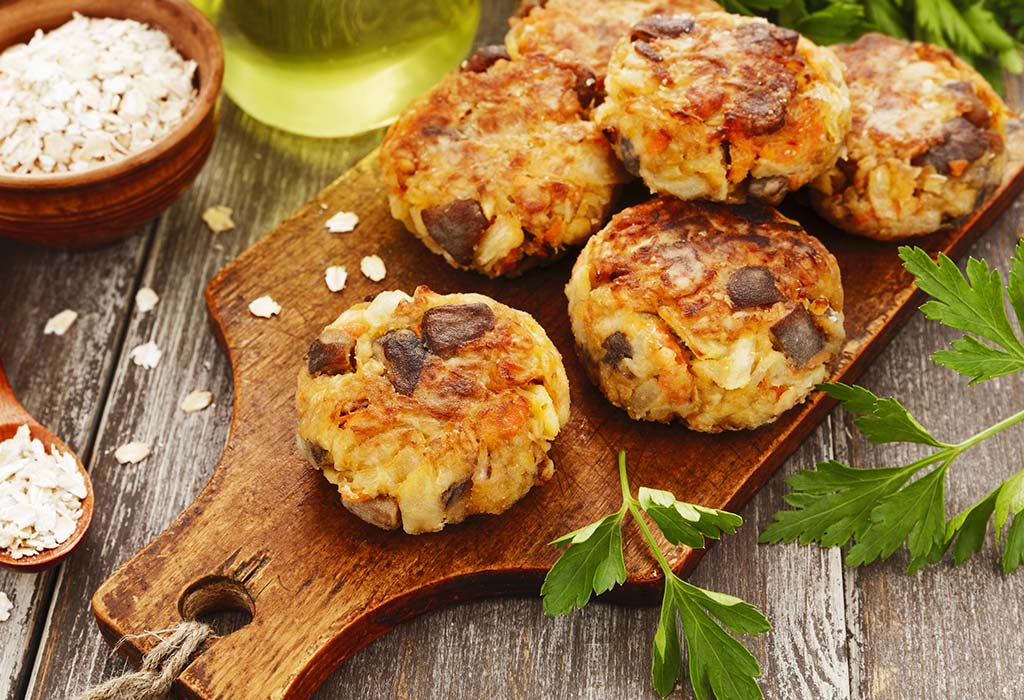 These healthy oat cutlets are not only easy to prepare but equally delicious as well.
Prep Time
About 15 minutes
Ingredients
Two medium-sized potatoes (mashed)
Half a cup of grated paneer
A quarter cup of grated carrots
Coriander leaves
A cup of oats
Two teaspoons red chilli powder
A teaspoon garam masala
Lime juice
Salt to taste
Oil for frying
How to Make
Take a large bowl and add the mashed potatoes, grated paneer and grated carrots.
Combine them properly.
Next, add oats and chopped coriander leaves.
Sprinkle the garam masala, red chilli powder and salt.
Add the lime juice. You need not add water.
Hand mix all the ingredients well to get a smooth dough.
Shape the dough into small flat discs.
Grab a pan and pour some oil.
Place it over medium heat and allow it to get hot.
Roll each disc in oats before shallow frying it in the oil.
Serve the oats cutlets with some mint-coriander chutney.
2. Stuffed Capsicum Parcels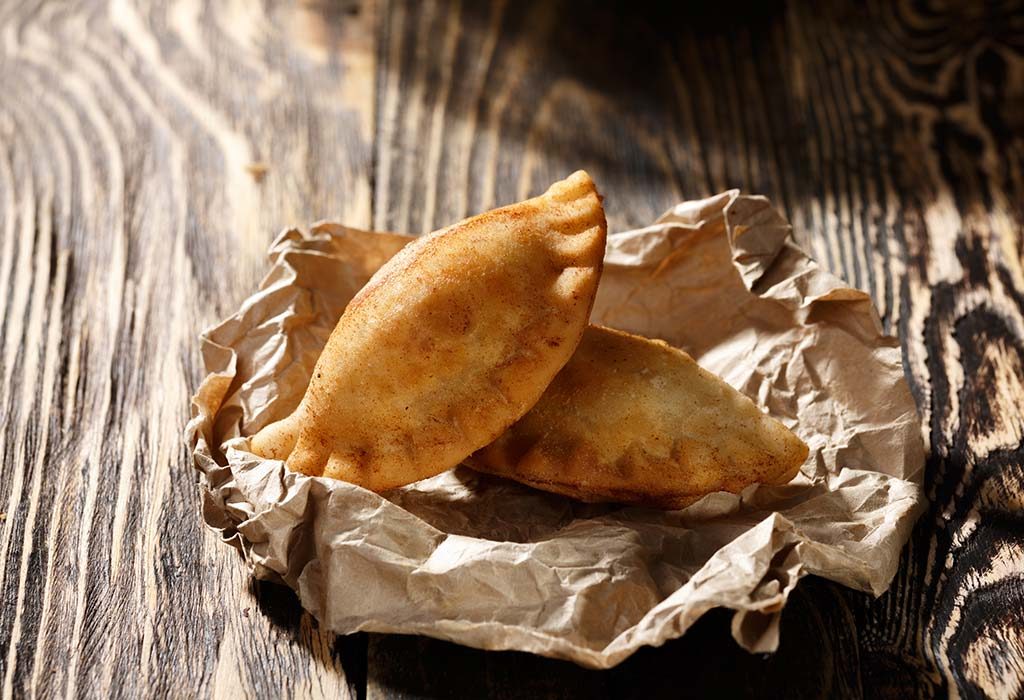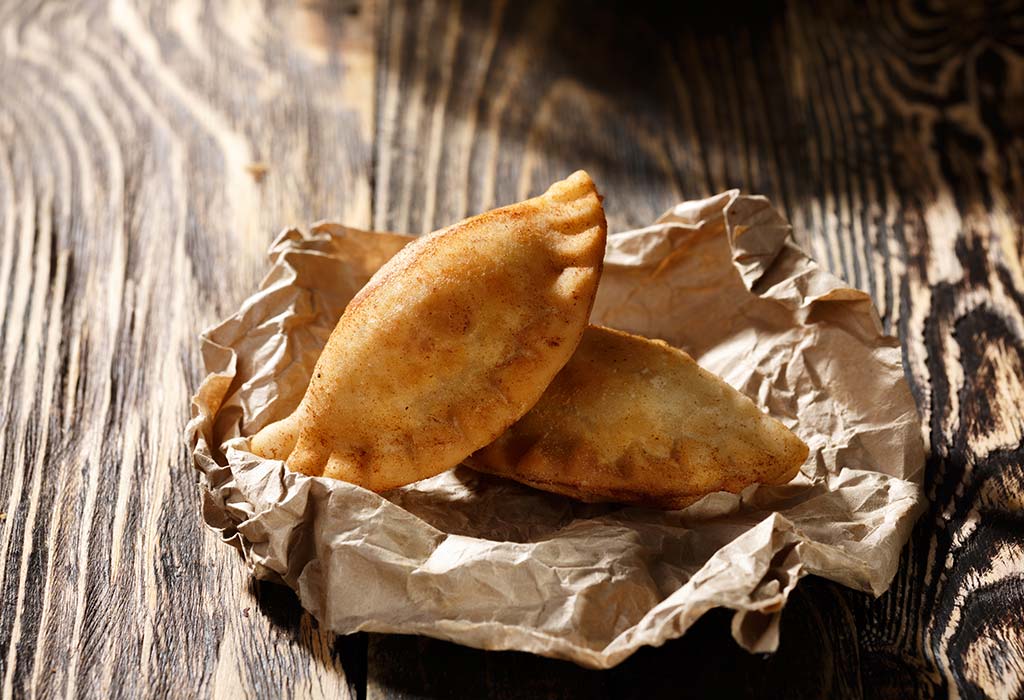 For vegetarian snacks, you can opt for stuffed capsicum parcels. These gorgeous stuffed parcels are a definite crowd-pleaser and the ideal snack for your kitty party.
Prep Time
About 30 minutes
Ingredients
For the outer covering –
A cup of all-purpose flour (maida)
A teaspoon oil
Half a teaspoon salt
For the Stuffing –
A cup of chopped capsicum
A quarter cup of chopped onions
Quarter cup paneer (crumbled)
A teaspoon of ginger-garlic paste
Green chillies (chopped) as per preference
Three tablespoons of Schezwan sauce
Salt and pepper to taste
Oil for frying
How to Make
In a large bowl add salt, flour, and a teaspoon of oil.
Add water and mix well to knead the flour into a dough.
Take a pan and pour some oil.
Heat it over medium flame and add ginger-garlic paste and green chillies.
Sauté it for a minute.
Next, add onions and capsicum followed by Schezwan sauce.
Add crumbled paneer, salt, pepper and toss to combine properly.
Turn off the heat and keep aside.
Split the dough into small portions. Roll them out in the form of small discs.
Stuff each disc with the mixture of paneer and capsicum.
Fold them into half and seal the edges by applying little water.
You can make a pattern on the edges by pressing a fork.
Shallow-fry the discs until golden brown.
Serve them with either ketchup or chutney.
3. Paneer Swasthik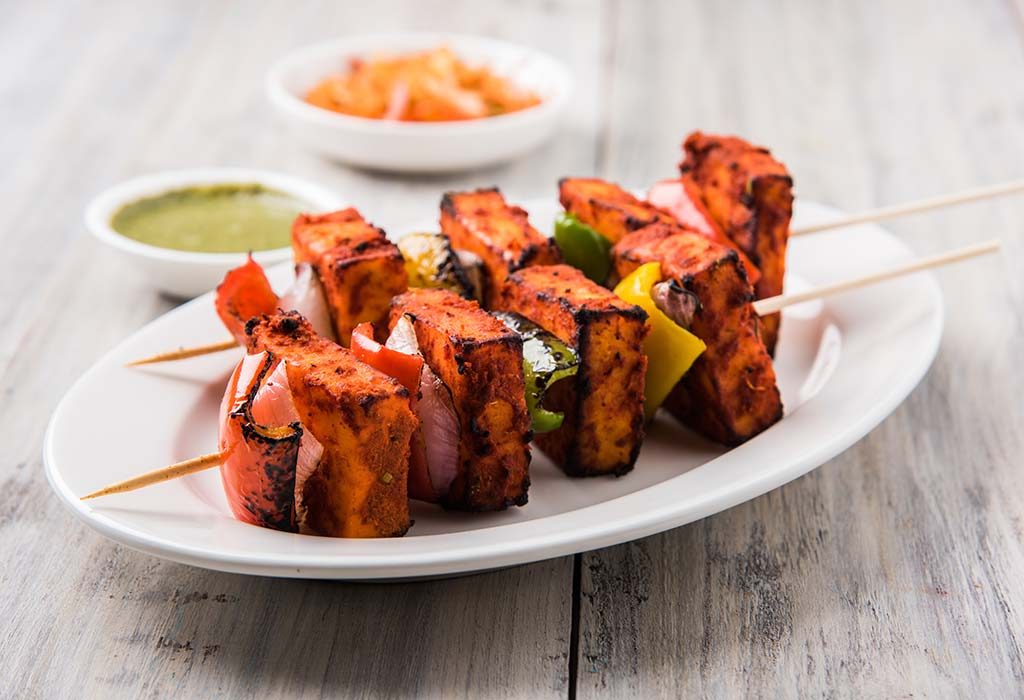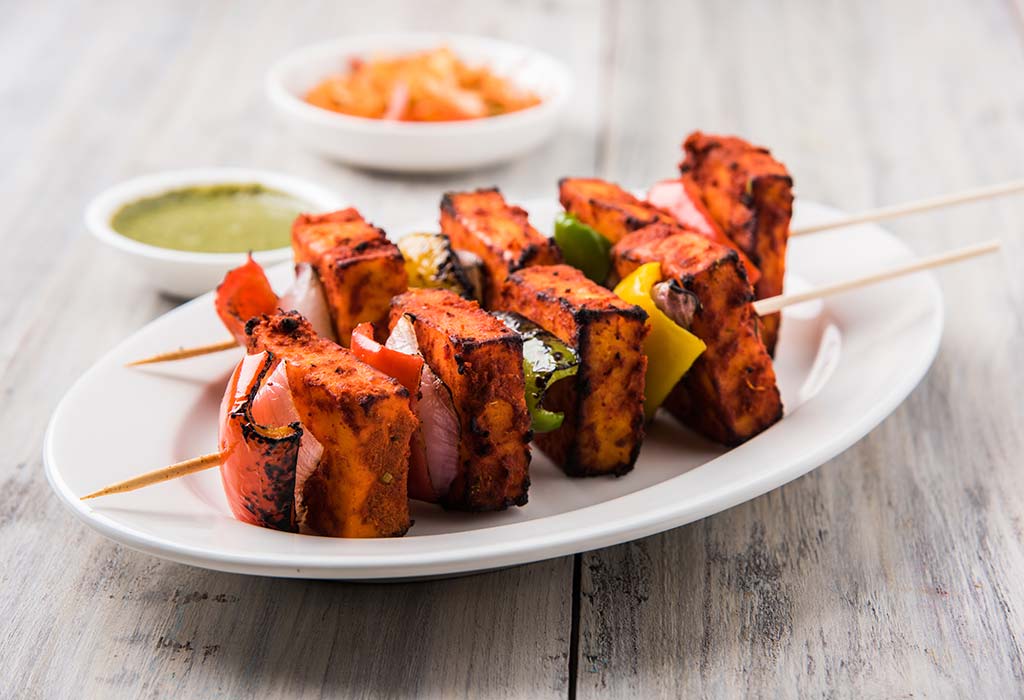 For kitty party snacks, Indian dishes are the way to go! You can enliven your kitty party with these amazing paneer starters that your guests are sure to relish.
Prep Time
About 35 minutes
Ingredients
200 grams paneer (cottage cheese)
Two tablespoons Maida
Three tablespoons cornflour
Two tablespoons besan (gram flour)
Quarter teaspoon turmeric powder
Half teaspoon black pepper
One and a half teaspoons red chilli powder
Green chillies (chopped)
Few pods of garlic (chopped)
A teaspoon grated ginger
A tablespoon chilli sauce
Ten to twelve cashew nuts (coarsely crushed)
Salt to taste
Oil for frying
Coriander leaves for garnishing
How to Make
Slice paneer into thin, long cubes.
In a bowl, mix besan, maida, cornflour, turmeric powder and salt.
Add water to make a thick paste.
Transfer the paneer cubes into the paste and mix properly so that all the cubes get coated.
Heat oil in a handi or a pan over medium heat.
Drop the cubes one by one into the oil and deep fry.
Next, drain the cubes and place them on a plate.
Take another pan and pour some oil.
Add chopped garlic, grated ginger, sliced green chillies, chilli sauce and cashew nut powder.
Sauté all the ingredients for a few seconds.
Add the fried paneer pieces.
Sprinkle some pepper and salt.
Mix well and cook for about a minute.
Turn off the heat. Adjust the salt and chilli sauce as per taste.
Insert a toothpick through each paneer piece.
Garnish with coriander leaves before serving them with tomato ketchup.
4. Corn Flakes Bhel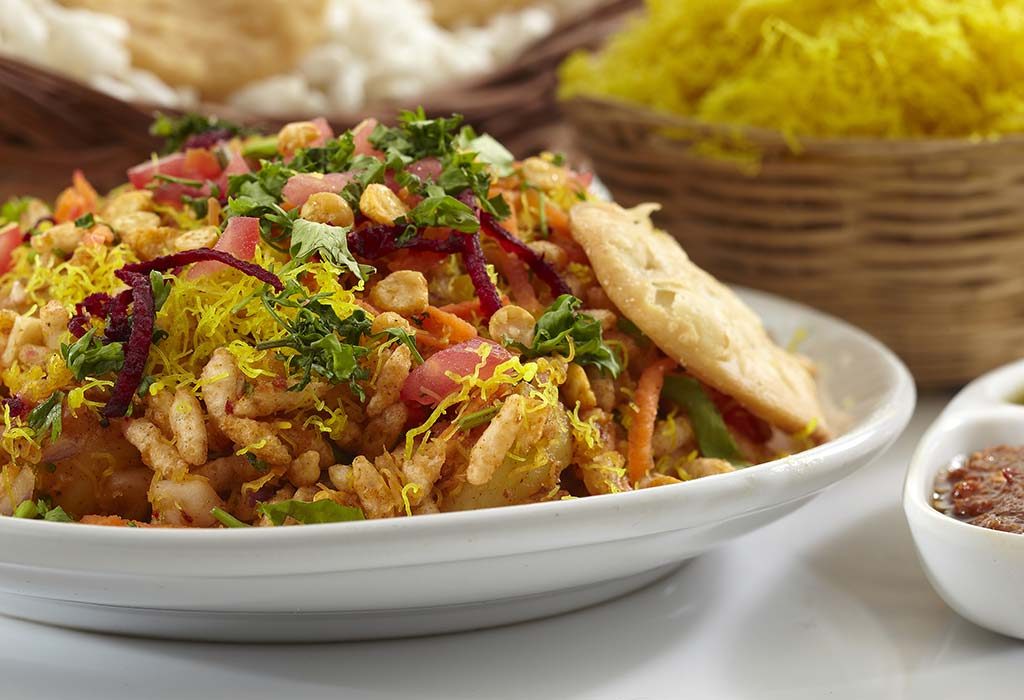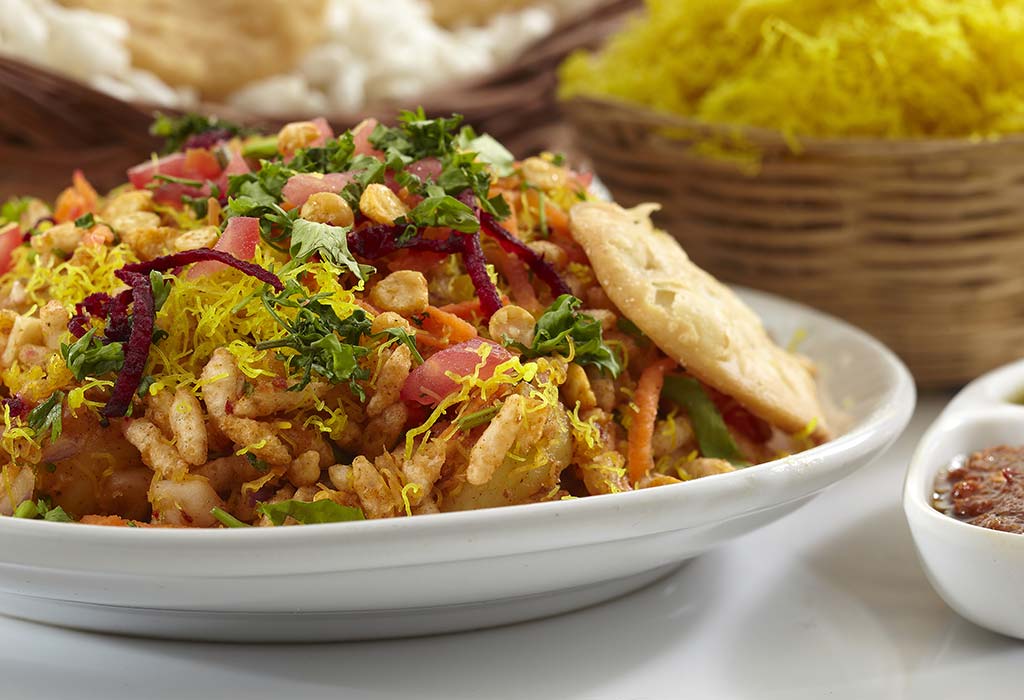 This wonderful snack will surely be a massive hit with your guests as it is a real tongue-tickler with its tangy and spicy flavours.
Prep Time
About 10 minutes
Ingredients Needed
Two cups corn flakes
An onion (finely chopped)
A tomato (finely chopped)
Green chillies as desired
Lemon juice
A teaspoon chat masala
A teaspoon red chilli powder
A tablespoon tamarind chutney
A tablespoon mint chutney
Salt to taste
Sev
Coriander leaves for garnishing
How to Make
Take a large bowl and add chopped tomatoes, onions, tamarind chutney and green chutney.
In that sprinkle some lemon juice, salt and chat masala.
Combine all the ingredients well.
Next, add crunchy corn flakes and mix properly.
Garnish with coriander leaves and sev.
Serve before it gets soggy.
5. Chicken Pizza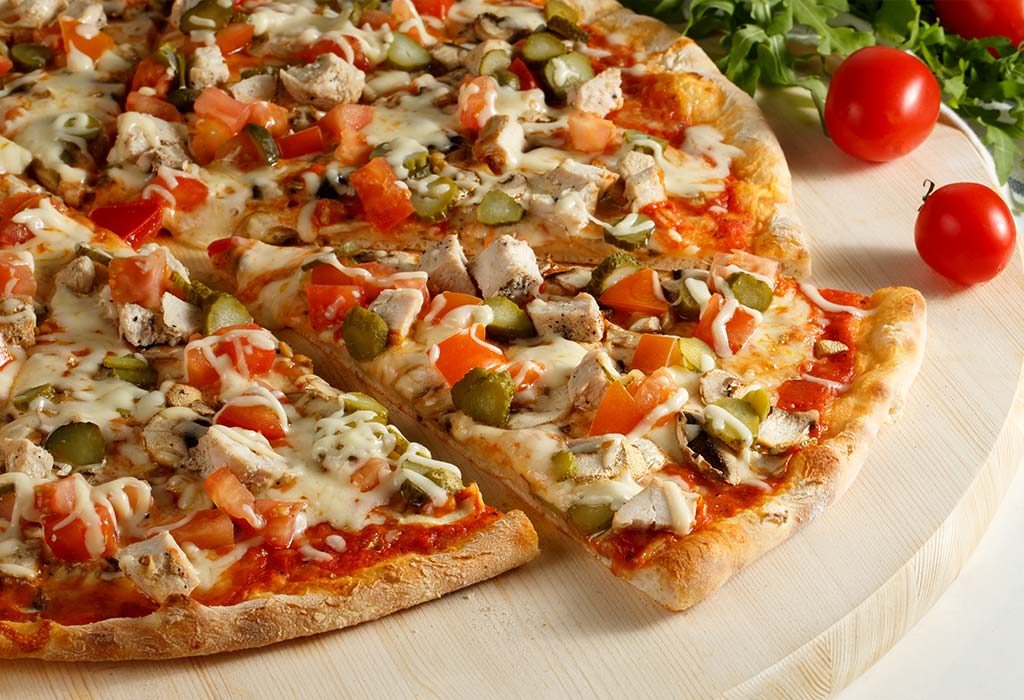 If you wish to include some heavy snacks in your kitty party menu, then chicken pizza can be a great option. This yummy thin crust pizza can be made on a stove and is guaranteed to be a savoury delight for all your guests.
Prep Time
About 30 minutes
Ingredients
A cup of plain flour (about 250 grams)
Half teaspoon dry yeast
Quarter teaspoon sugar
Quarter teaspoon salt
Three-fourths cup warm water
A cup of grated mozzarella cheese
A tablespoon pizza sauce
A cup of mixed vegetables (red and green bell peppers, onions, tomatoes) for topping
Cooked chicken pieces
Oregano
Chilli flakes
How to Make
Combine yeast, sugar and warm water. Keep the mixture aside for about 10 minutes.
In another bowl mix plain flour and salt.
Add the yeast mix to it gradually and knead suitably to make a dough which is neither very sticky nor too tight.
Flatten the dough to form a thin base.
Take a nonstick pan and grease it with some oil.
Put the flattened base in the pan.
Spread the pizza sauce and scatter grated cheese over it.
Add the mixed vegetables and chicken pieces.
Sprinkle some oregano and chilli flakes.
Again, spread grated cheese on top.
Place the non-stick pan on medium flame for about two minutes. Lower the flame and cover the pan with a lid.
Cook for around 10 to 15 minutes.
Cut the pizza into slices before serving.
6. Crispy Corn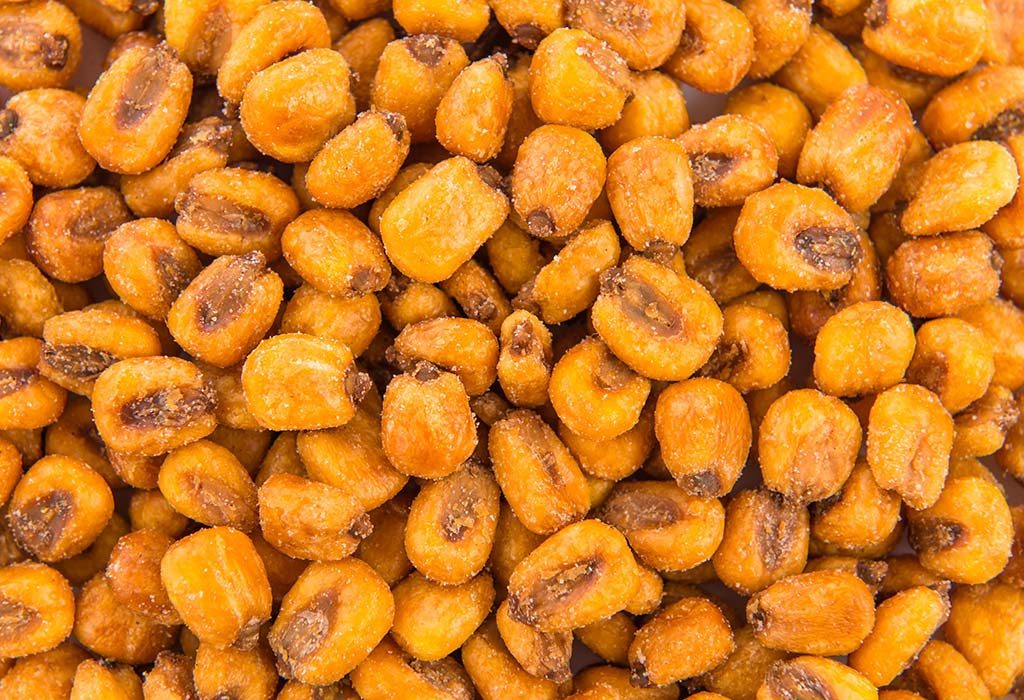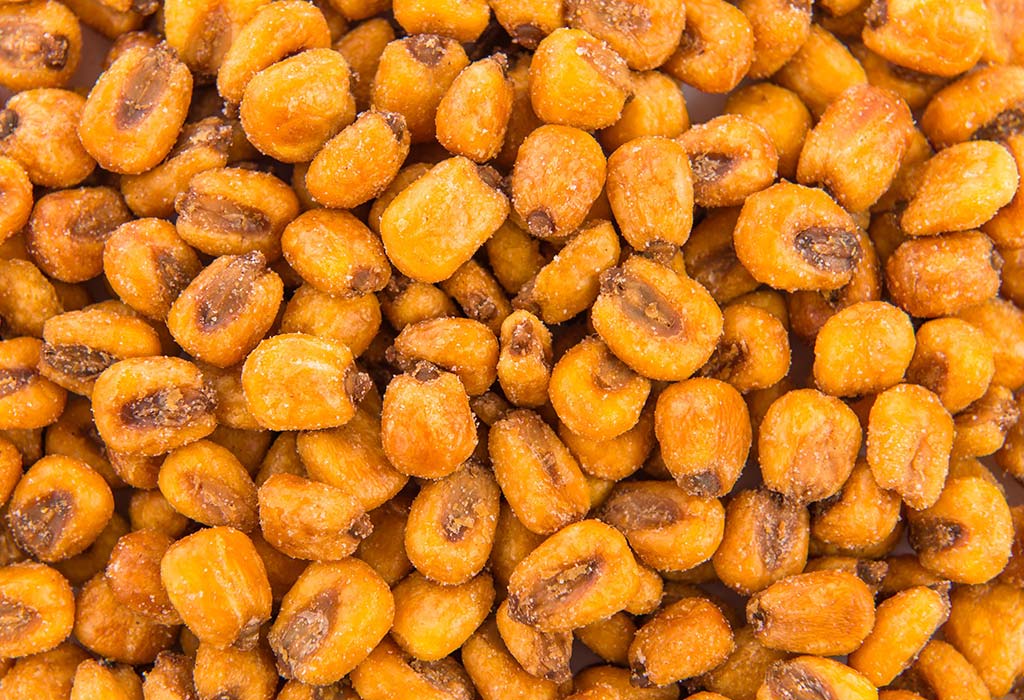 This super-easy snack can be prepared in no time and is a sheer indulgence for all food-lovers.
Prep Time
About 20 minutes
Ingredients
A cup of sweet corn
Two tablespoons all-purpose flour
Two tablespoons corn flour
Half teaspoon ginger-garlic paste
Pepper and salt to taste
Oil
For tempering
Green chillies (chopped)
Quarter cup spring onions
Quarter cup tomato sauce
A teaspoon vinegar
A tablespoon chilli sauce
A teaspoon soy sauce
Three pods of garlic (finely chopped)
Oil
Salt to taste
How to Make
In a bowl, mix cornflour, all-purpose flour, pepper, salt and some water.
Pour some oil in a pan and put it on medium heat.
Add the corn to the heated oil and deep-fry them till they become golden brown.
Drain and keep aside.
Take another pan and add some oil.
Put it on medium flame and add garlic, green chillies, spring onions.
Sauté them for a minute.
Add chilli sauce, tomato sauce, vinegar, soy sauce, fried corn, salt and toss them well to mix.
Serve right away.
7. Chocolate and Walnut Cake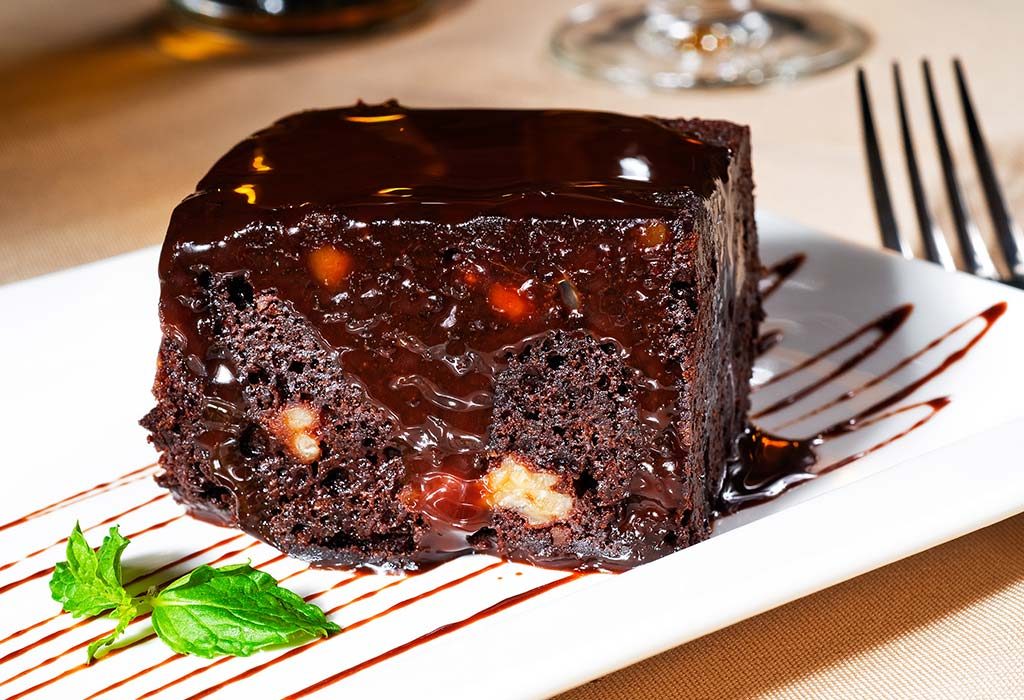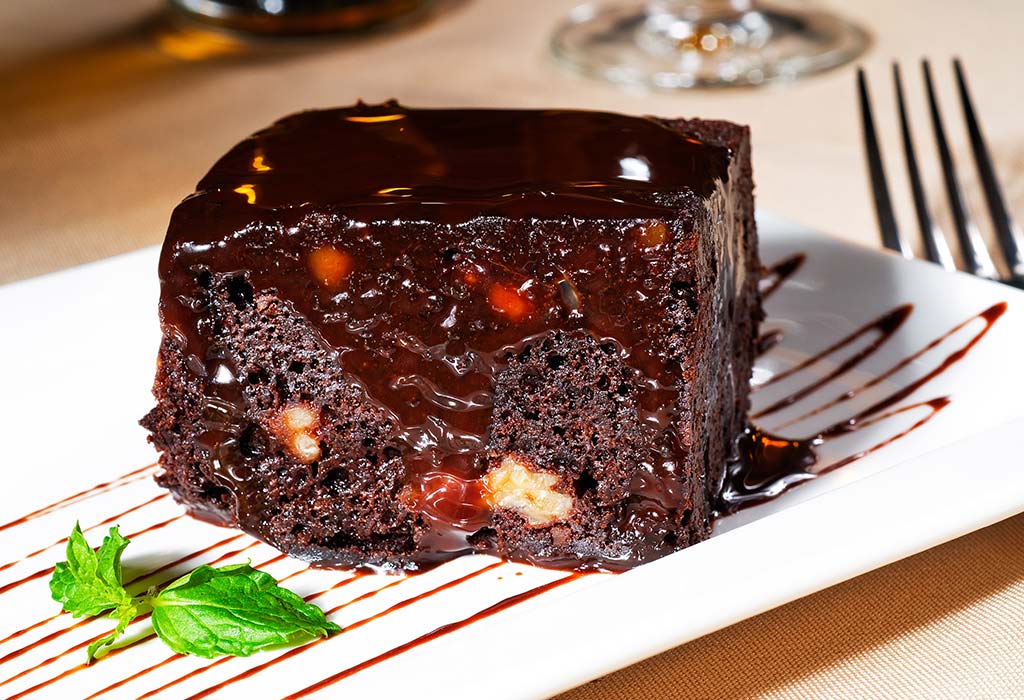 This moist, incredibly soft cake topped with chocolate frosting is sure to tantalise your guests' taste buds!
Prep Time
About 40 minutes
Ingredients
Four eggs
100 grams butter
100 grams cooking chocolate
20 grams sugar
50 grams walnuts (coarsely crushed)
For frosting
50 grams whipped cream
100 grams dark chocolate
How to Make
Combine eggs and sugar in a big bowl.
Melt the butter and to that, add chocolate, walnuts and mix well.
Pour the chocolate mix into the egg-sugar combination.
Transfer the mixture into a greased silicone mould.
Place the mould in a preheated oven.
Bake for 35 minutes at 170 degrees.
To make chocolate frosting, add cream to a pan.
Place the pan on medium heat and allow the cream to boil.
Add chocolate and blend properly.
Upon cooling, pour the ganache over the cake.
Garnish with nuts or chocolate chips.
8. Dumplings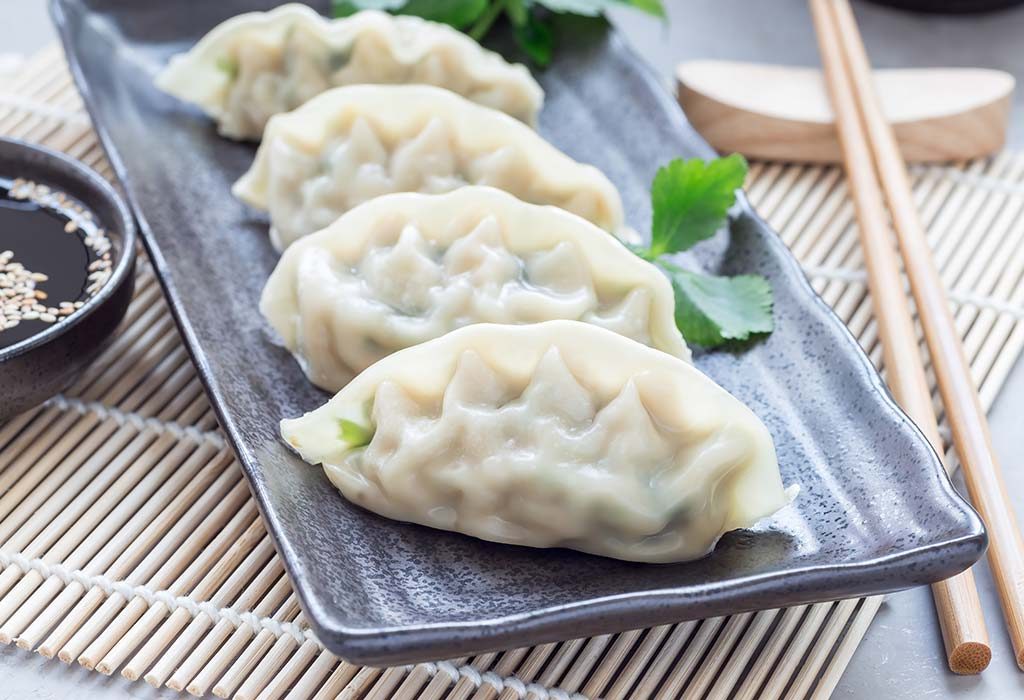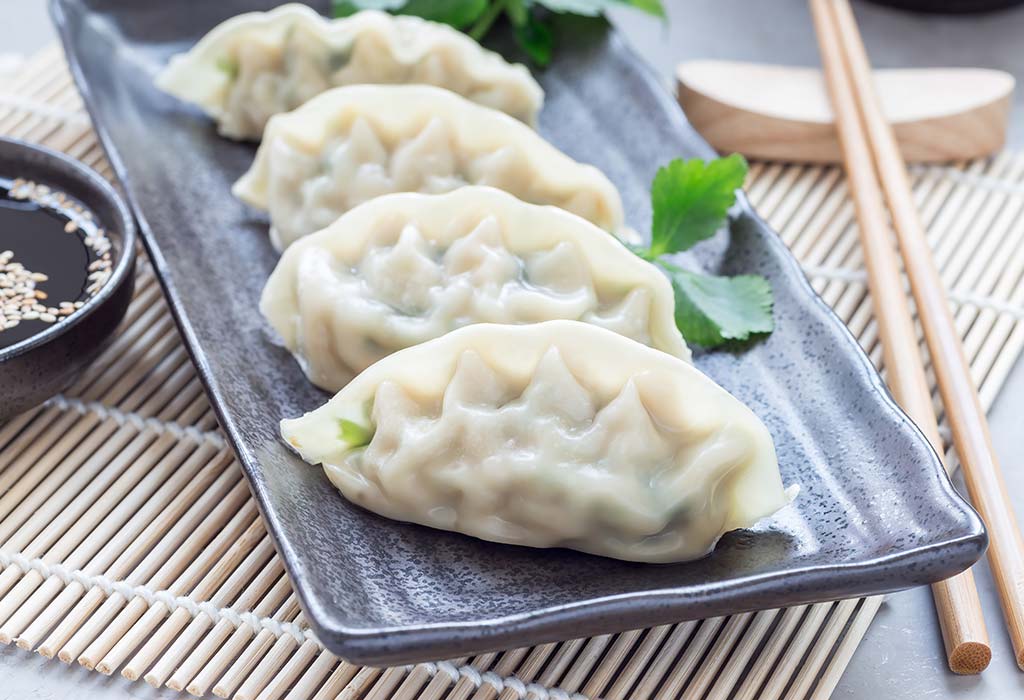 These steamed dumplings stuffed with vegetables can be an ideal, healthy kitty party snack.
Prep Time
About 45 minutes
Ingredients
A cup of all-purpose flour
A teaspoon oil
Water to knead
Salt to taste
For stuffing
Quarter cup chopped onions
Quarter cup chopped carrots
Quarter cup chopped capsicum
Quarter cup chopped beans
Quarter cup chopped spring onions
Half cup chopped cabbage
Four pods of garlic (minced)
A tablespoon oil
A teaspoon soya sauce
A teaspoon vinegar
A teaspoon chilli sauce
Salt and pepper to taste
How to Make
Combine all-purpose flour, salt and oil. Knead them by using little water to get a soft dough.
Cover and set aside for about an hour.
Heat some oil in a big pan.
Add garlic, onions and cook for a minute.
Next, add all the vegetables and sauté for about 5 minutes on medium heat.
Add chilli sauce, soya sauce, vinegar, salt, pepper and mix well.
Turn off the heat and add the spring onions.
Split the dough into equal portions (small round balls).
Dust each dough ball in flour and flatten it using a roller to form a circle of around 3 to 4 inches.
Place adequate stuffing in the centre and lift the edges to join them together.
Arrange the dumplings on the steaming plate and steam for about 10 minutes or till they appear shiny and translucent.
9. Pani Puri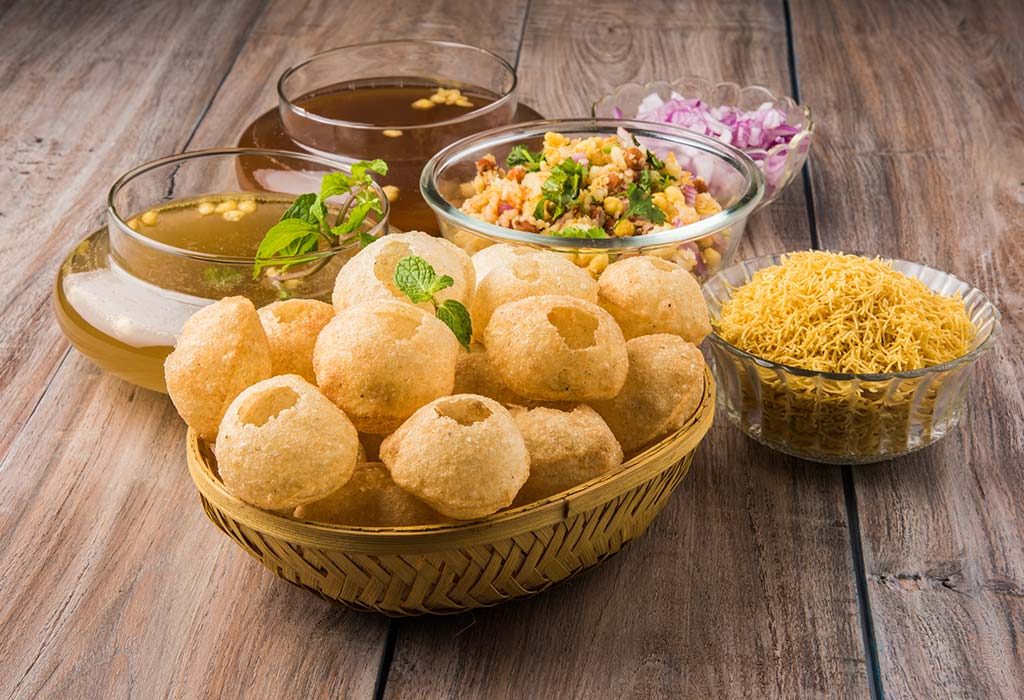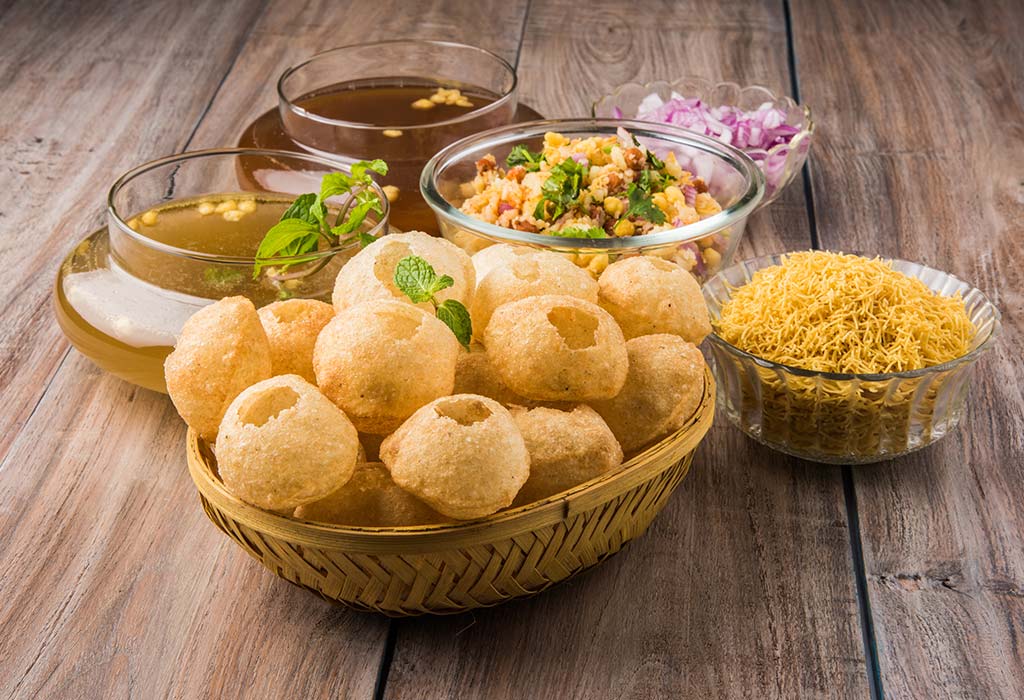 This innovative snack will be hard-to-resist and is sure to vanish in seconds!
Prep Time
About 15 minutes
Ingredients
Small puris
Two potatoes (boiled and cubed)
50 grams boiled Kala Chana
A tablespoon dhania powder
A tablespoon chilli powder
Sweet tamarind chutney
Yoghurt
Salt to taste
How to Make
For the filling, mix Kala chana, potatoes, salt, chilli powder, dhania powder, tamarind chutney and yoghurt.
Crack open the puris from one side.
Stuff the puris with some filling.
Serve right away.
10. Nachos and Salsa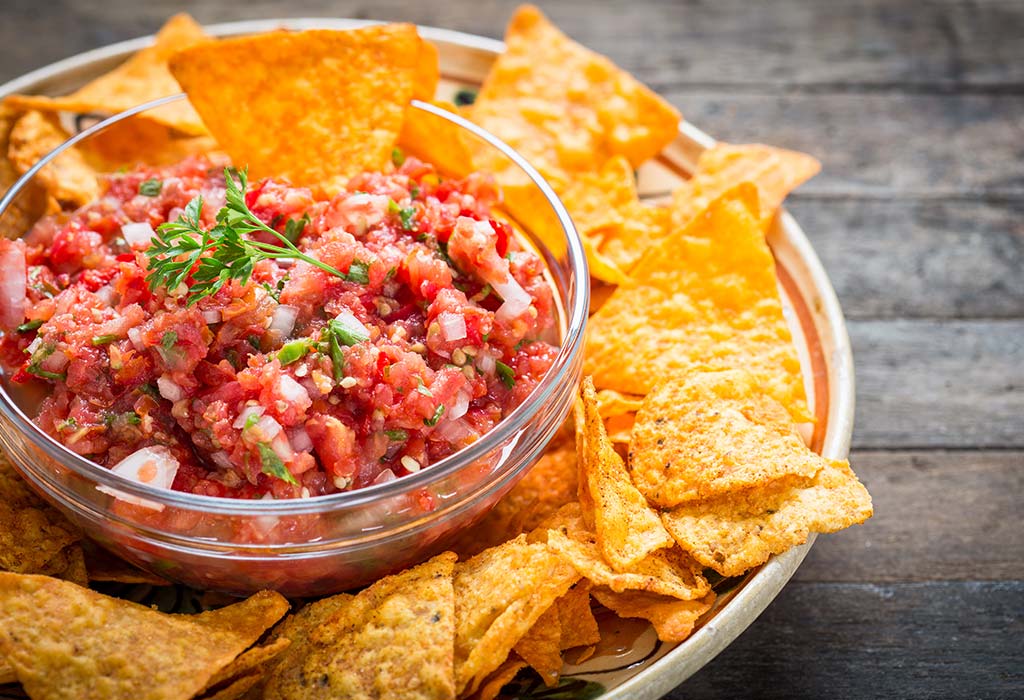 Treat your guests to this delectable Mexican snack for them to remember for times to come!
Prep Time
About 10 minutes
Ingredients
500 grams nachos
100 grams grated cheese
Two tomatoes (chopped)
An onion (chopped)
Lime juice
Coriander leaves
Green chillies (chopped)
How to Make
In a large bowl, mix chopped tomatoes, diced onions, lime juice, green chillies and coriander leaves to prepare the salsa.
Arrange the nachos on a baking tray and spread the salsa over them.
Sprinkle grated cheese and put the baking tray in a preheated oven for 3 to 4 minutes or till the cheese melts.
Serve hot.
When it comes to throwing a party, the quest to be different and to do something new that has never been done before always remains. To come up with a delightful menu can be quite challenging. You can always plan the eatables around the chosen theme of your kitty party or simply give a spin to easy recipes with some inventive thinking.
Also Read:
Easy Evening Snack Recipes to Enjoy with Family on Tea Time
Health Benefits of Turmeric (Haldi) You Must Know
White Rice Alternatives You Must Consider