12 Christmas Tree Decorations Your Kids Will Love Making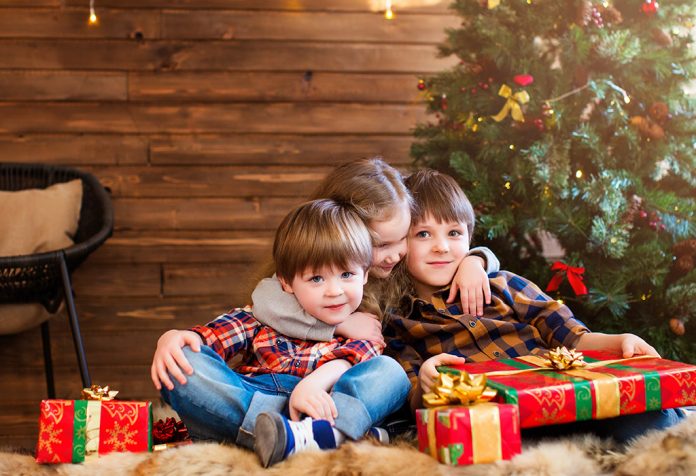 In this Article
The holiday season is here, and Christmas is almost upon us. Why not give your Christmas tree some extra love this season? Instead of buying ornaments for the tree, make them at home!
Now that the winter air is heavy with the Christmas spirit, it's time to look for a tree and decorate it before you pile gifts beneath. If you've been using the usual Christmas ornaments to decorate your tree year after year, why not try something different this year? You can design your own ornaments at home and ask the kids to chip in.
Check out these easy-to-make Christmas tree ornaments to add a personal touch to your home's decor. Handmade spells love – exactly what you want to share this month! Let this year's Christmas be the year of children's Christmas tree decorations. Here are some of the best homemade Christmas ornaments ideas.
12 Homemade Christmas Tree Ornaments for Kids
1. 3D Stars with Cookie Cutters
This is another simple Christmas tree ornament. Using star-shaped cookie cutters, ask your older children to trace stars on cardboard. Have them cut them out carefully and stick colored and patterned paper over them. Fold in half and stick two or three stars together. What you should be left with are 3D stars that look wonderful when caught in the breeze.
2. Gift Wrap with Rudolph
Forget wrapping small boxes with paper to hang on the tree. This year, let your kids create Rudolph the Reindeer labels! Hand them colorful ribbons to tie around the gifts and use them to adorn the Christmas tree. You can also use this idea to dispatch or hand-deliver beautiful Christmas gifts that are almost too stunning to unpack!
3. Initials on Snowflakes
Design pretty snowflakes using colored paper and cardboard. Decorate them with ribbons and glitter. Adorn the center of the snowflakes with the initials of your family members. Your kids might need some assistance in making the snowflakes though you can leave the writing of initials to them. Check this out for origami and paper-folding Christmas crafts that anyone can excel at!
4. Paper House Christmas Ornament
Another fun Christmas ornament you can make with your kids is paper houses. Take a white paper and cut the four walls with windows, and make the roof with a chimney. Stick the four walls and the roof together to make a small house and hang it on your Christmas tree using a thread. Don't forget to leave the bottom of the house open to place a light inside when you decorate your Christmas tree.
5. DIY Yarn Ornaments
Using cookie cutters trace the shape on a styrofoam sheet. Stick needles on all the edges and around the shape of the ornament. Take a long piece of yarn and dip it in glue. Stick the soaked thread on the outline of the shape traced on the styrofoam. Then wrap the yarn as you like, taking it around the needles. Stick the end of the yarn carefully and repeat this process for different shapes. Let these dry overnight. Once the ornaments are dry and stiff, remove the needles and gently detach the ornament from the styrofoam using a knife. Make sure you are prepared for things to get messy as sticky hands are definitely a part of this DIY Christmas tree craft.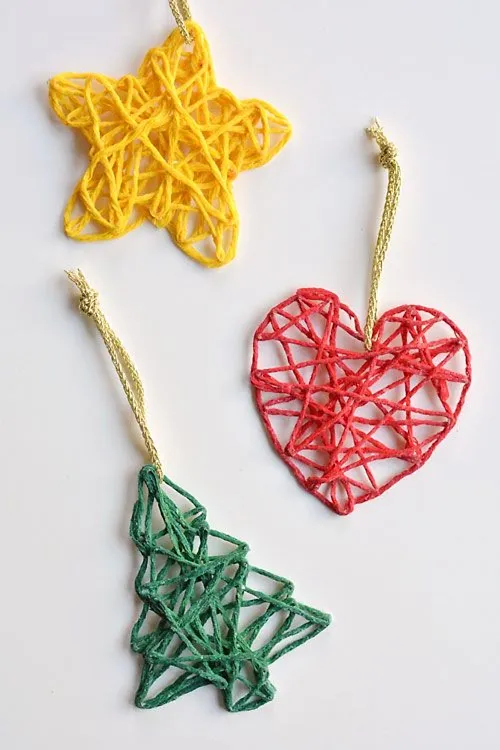 6. Popsicle Sticks Ornaments
Popsicle sticks are the ultimate crafting item that can be easily found. Gather your kids and make them stick popsicle sticks in different shapes to make reindeers, candy cane, and Christmas trees. Don't forget to attach a piece of thread to each one so that you can easily decorate your Christmas tree with your kids' artistic expression.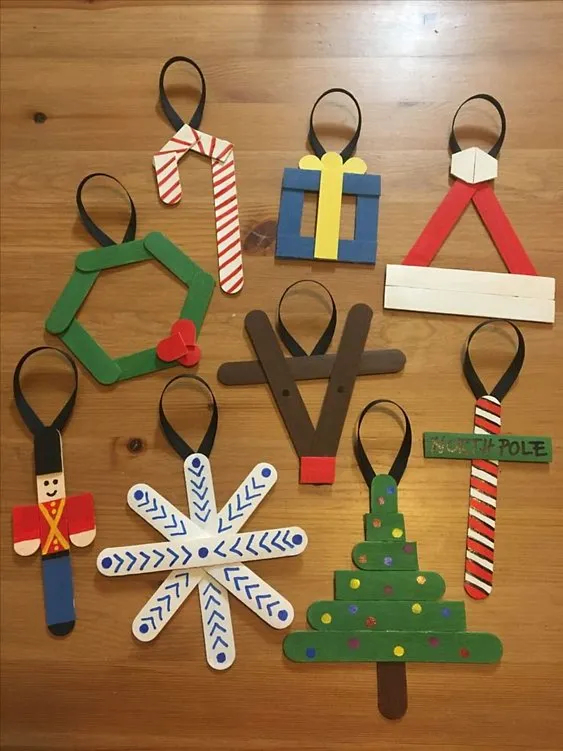 These Christmas ornaments for kids will be a hit this Christmas season. Candy cane made of paper and cloth, reindeer faces made with bottle caps and wrapping paper–go ahead and experiment with different ideas to make great ornaments for your Christmas tree. Don't forget to ask your children for ideas. Their little minds may be bubbling with creative designs!
7. Pinecone Ornament
Pinecone is a popular Christmas tree ornament, loved by many. Ask your children to paint the pinecones green with green-colored paint. Once all the pine cones are dried, you can ask your kids to beautify pine cones with bright-colored dots, like red, white, and yellow. When they are dried, you can tie a string to the top part of the pine cone and hand them to the tree.
8. Handprint Snowman Ornament
Handprinted snowman ornaments are just adorable. They are super easy and fun to make and look excellent hanging on the Christmas tree. Paint your kid's palm with white acrylic color and place the round ornament in their palm. Ask them to hold the ornament like a ball and open their palm right away. Do this with as many as you want. Once the ornaments are dry, add snowman details on the handprints using sharpies and color pens. Make sure you write the name of the kid and year at the bottom. Add ribbons to the ornaments and hang!
9. Cute Little Snowmen
Design tiny snowmen for the Christmas tree to add a fun element to your tree. Cut out felt bodies for your snowmen, keeping his eyes, hat, and buttons black. Use cotton balls to stuff him up and give him a straight-from-the-Pole look. You can also add a button-down front for a cheeky snowman!
10. Holly Bunches
This is one of the easiest Christmas tree decorating ideas for kids – but a classic one nevertheless. All you need are the holly bunches you used last year for Christmas. This season, use them to make little hanging gift boxes! You can also add holiday-themed stickers from a store and glitter baubles. Voila! You'll have handfuls of amazing new ornaments for your Christmas tree in a short time.
11. Stocking Fun
When you're working on handmade Christmas tree ornaments that are cute and fun to create, stockings made of felt paper and ribbons are a must. Cut out two pieces of felt and stitch them together using ribbons. Give your kids free reign over color combinations and decorating the stockings. Though it's not a suitable craft for toddlers, older children who know the basics of stitching can easily do them.
12. Felt Christmas Tree
This simple Christmas ornament is super easy to make, and your kids will love decorating these small Christmas trees before they get to decorate the real ones. All you have to do is draw the outline of small Christmas trees on a felt fabric and cut them out. Stick two felt Christmas trees together, stuff them with cotton, and attach the thread on top. Once they are ready, let your kids decorate these miniature trees with colorful buttons and stickers.
These DIY decoration ideas are a blast and will definitely amaze your kids while you decorate your Christmas tree with them. So, what are you making together this Christmas?
Also Read:
27 Unique Christmas Tree Decoration Themes
10 Simple Christmas Tree Crafts for Kids
?>