12 Beautiful Morning Prayers for Kids
In this Article
In most families, each day begins with a blurry-eyed marathon between the little ones you have to wake up, the eldest stubbornly refusing to have her breakfast, and the smallest one desperately searching for her shoe. It is basically a race to go on about your daily routine and this tiring cycle may seem like it would never end. In these cases, you may wonder where a morning prayer would fit in, though all of us would like to find a little time for it every morning. But praying with your children and sharing the joy of being able to connect with God in the morning is an incredible thing and its joy would be reflected throughout the day!
Praying out loud is a strong expression of faith and it is something you can teach your children. Moreover, short morning prayer is also a way of placing everything we are going to experience into God's hands and letting Him guide our paths!
Simple Morning Prayers for Children
There is no one correct way to pray every morning. All that matters is that yours and your child's morning prayers are said faithfully no matter how long or short your prayers are! Here are a few beautiful morning prayers for preschoolers, and you can teach them the ones that suit you and your family the best!
1. Things I Am Grateful for Prayer
Thank you for this family,
For hugs, kisses, and special times together.
Thank you for my friends,
For laughter and chatting and sharing.
Thank you for my home,
For rest times, bath times, and bedtimes.
Thank you for the food,
For breakfast, lunch, and dinner, snacks, and treats.
Thank you for playtimes,
For toys and games and books.
Thank you for the fun,
For giggles and for happy times.
Thank you for making all lovely things
And for helping me enjoy them all.
Amen.
2. Lorica of St. Patrick
I arise today through
God's strength to pilot me, God's might uphold me,
God's wisdom to guide me, God's eye to see before me,
God's ear to hear me, God's word to speak for me,
God's hand to guard me, God's way to lie before me,
God's shield to protect me, God's host to secure me ¾
against snares of devils,
against temptations and vices,
against inclinations of nature,
against everyone who shall wish me ill,
whether far or near,
alone and in a crowd…
Christ, be with me, Christ before me, Christ behind me,
Christ in me, Christ beneath me, Christ above me,
Christ on my right, Christ on my left, Christ where I lie, Christ where I sit,
Christ where I arise, Christ in the heart of every man who thinks of me,
Christ in the mouth of every man who speaks of me,
Christ in every eye that sees me, Christ in every ear that hears me.
Salvation is of the Lord.
Salvation is of the Lord.
Salvation is of Christ.
May your salvation, O Lord, be ever with us.
Amen.
3. Beginning With Thanks
Lord, I begin every day,
By taking a second to bow and pray.
Beginning with thanks, I then give praise
For all your kind and loving ways.
Today if sunshine turns to rain,
If a dark cloud brings some pain,
I won't doubt or hide in fear
For you, my God is always near.
I will travel wherever you lead;
I will assist my peers who need it.
Wherever you send me, I will go;
With your help, I'll learn and grow.
Retain my family in your palms,
As we follow your commands.
And I will keep you close in sight
Until I go to bed tonight.
Amen.
4. Thy Glory May I Seek in All
Whate'er I do, things great or small
Whate'er I speak or frame.
Thy glory may I seek in all,
Do all in Jesus' name.
My Father, for His sake I pray.
Thy child accept and bless
And lead me by Thy grace to-day
In paths of righteousness.
Amen.
5. Canticle of Zechariah
Blessed be the Lord, the God of Israel;
He came to His people and set them free.
He has raised up for us as a mighty savior,
born of the house of His servant David.
Through His holy prophets, He promised the old
that He would save them from their enemies,
from the hands of all who hate us.
He promised to show mercy to our fathers
and to remember His holy Covenant.
This was the oath He swore to our father Abraham:
to set us free from the hands of our enemies,
free to worship Him without fear,
holy and righteous in His sight
all our life.
You, my child, will be called the prophet of the Highest;
for you will go before the Lord to manifest His way,
to give His people an understanding of salvation
by the forgiveness of their sins.
In the tender compassion of our God
the dawn from on high above shall crumble upon us,
to shine on those who live in darkness
and the shadow of death,
and to guide our feet into the way of peace.
Glory to the Father, to the Son, and to the Holy Spirit: as it was in the beginning, is now, and will be forever.
Amen.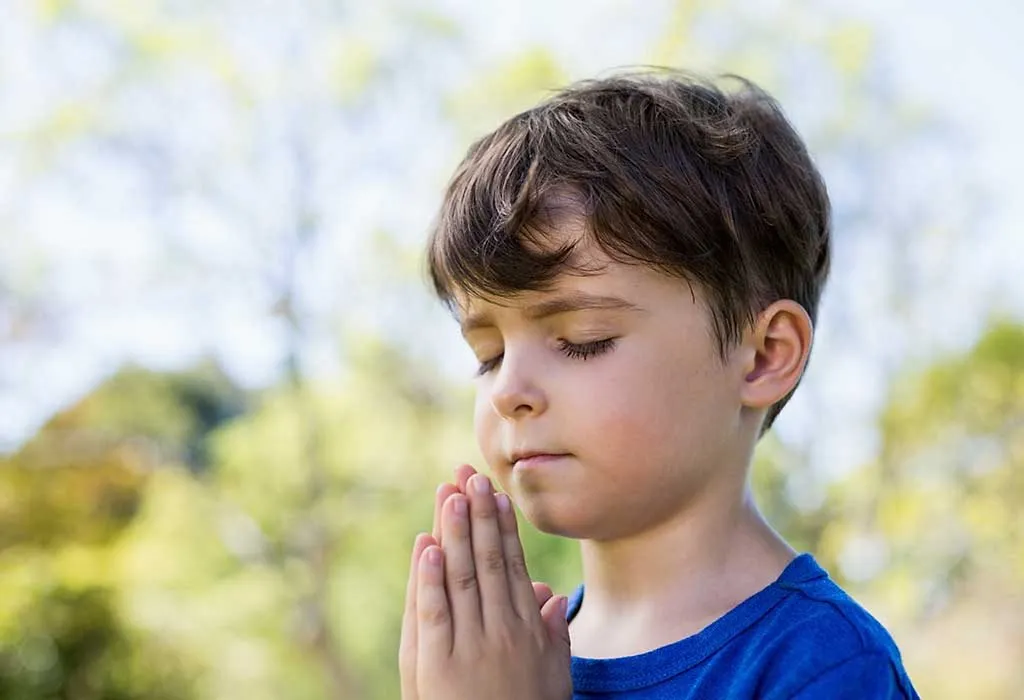 6. All Through the Day
The morning bright
With rosy light
Has wakened me from my sleep;
Father, I own
Thy love alone
Thy little one doth keep.
All through the day,
I humbly pray,
Be Thou my Guard and Guide;
My sins forgive
And let me live,
Blest Jesus, near Thy side.
Amen.
7. Good Morning, Jesus
Jesus, you are good and wise
I will praise you as I rise.
Jesus, hear this prayer that I send
Bless my family and friends.
Jesus, help my eyes to see
The good you send to me.
Jesus, help my ears to hear
The calls for help from far and near.
Jesus, help my feet to go
In the path that You will show.
Jesus, help my hands to do
All things loving, kind, and true.
Jesus, guard me through this day
In all I do and all I say.
Amen.
8. A Thank You, Prayer to God
Heavenly Father,
Thank you for this amazing, beautiful world you
created. Help us to care for it.
Thank you for this wonderful, unique people you have
made us to be. Help us to care for each other.
Thank you for the incredible, and tasty foods you have
created. Help us remember and care for those who are
hungry.
Thank you for the inspiring stories and teachings in the
bible. Help us to share this good news with people
everywhere.
Amen.
9. Thank and Pray and Praise
In the early morning,
With the sun's first rays.
All God's little children
Thank and pray and praise.
I, too, thanks would offer,
Jesus, Shepherd dear,
For Thy tender pasture,
For Thy guiding care.
And I would implore Thee,
Be with me this day,
Lest I from Thee wander,
Into danger stray.
Amen.
10. Prayer of Saint Francis
Lord, make me a tool of peace;
where there is hatred, let me seed love;
where there is injury, pardon;
where there is an error, truth;
where there is doubt, faith;
where there is despair, hope;
where there is darkness, light;
and where there is sadness, joy.
O Divine Master, grant me the ability so I may not seek
to be consoled as to console;
to be understood as to understand;
to be loved as to love.
For by giving we receive;
it is in pardoning that we are pardoned;
and it is in dying that we are born to eternal life.
Amen.
11. Be Near Me, Lord Jesus
Be near me, Lord Jesus!
I ask Thee to stay
Close by me forever
And love me, I pray.
Bless all the dear children
In Thy tender care,
And take us to heaven
To live with Thee there.
Amen.
12. Day By Day
Day by day, dear Lord,
These three things I pray:
To see you more clearly,
Love you more dearly,
Follow you more nearly,
Day by day.
Though these morning prayers for toddlers and preschoolers can be taught easily, the best way to encourage them to pray is to begin every morning by praying yourself! Some people would prefer getting up a bit earlier in the morning to pray while others prefer finding a few minutes in between. However, no matter what option you go for, the time you spend on a good morning prayer would definitely help brighten your day!
Also Read:
Morning Routine for Children
Night Time Prayers for Children
Good Morning Songs for Children
?>