10 Awkward Things All Of Us Have Faced on a Trip To The Beauty Parlour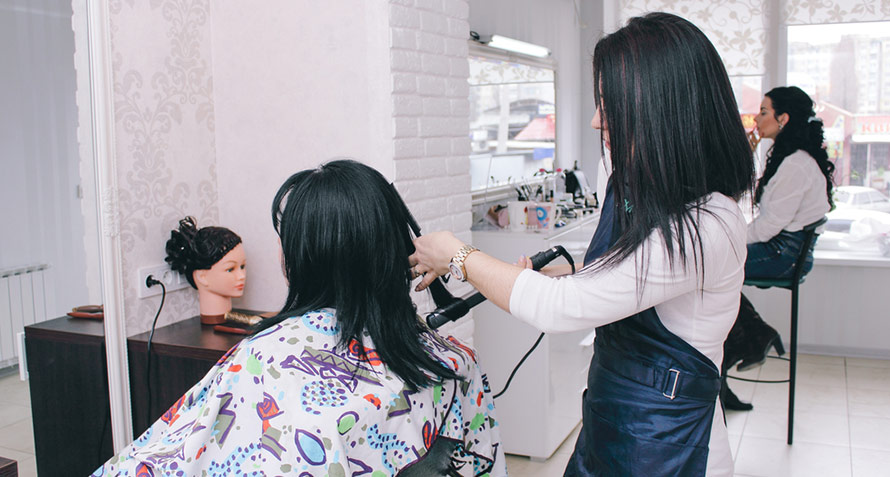 We all have that love-hate relationship with the parlour ladies – can't deal with their upfront comments, but can't do without their help. Here are 10 awkward things you would have definitely faced on your visit to the beauty parlour!
Being a woman comes with some perks, and yes, a pampering session at a beauty salon once in a fortnight/month is one of them. However, these visits don't necessarily turn out to be relaxing all the time. You expect you are going to walk out with a heightened sense of self confidence post that haircut, but you are mostly in for some amusing (and unnerving!) comments by your stylist! Sounds familiar?
Well, it is a common situation most women face when they go to a beauty parlour. Here are a list of 10 situations which you must have faced at least once in your life!
1. 'Your hair is very damaged, we will have to cut at least THIS much'
Went for a hair trim and got a new hairdo instead? Well, chances are you had been told that the ends of your hair were extremely rough and damaged, and perhaps to salvage them, you must chop them off!
Also Watch: A Visit to an Indian Beauty Parlour
2. 'Such rough hair growth on the legs. Did you use a razor?'
Waxing is painful enough, but ladies at the parlour definitely know how to make it unbearable! The small talks that happen during waxing are mostly about how uneven your hair growth is and how difficult it is to uproot them. And God forbid if you told them you had shaved the previous month, because a series of unsolicited advice will follow.
3. 'Please just clean the extras and don't make my eyebrows thin'
The fortnightly ritual of an 'eyebrow-upperlip' is on every woman's agenda. And as a mandate, whenever you say 'please extra nikal dena, eyebrow patla mat karna' (just clean the area and don't make them thin), the beautician would nod and agree. But, come the time of revelation, you will only notice a thin layer of hair above your eyes, because apparently, 'shape kharab ho gaya tha!' (your eyebrows were out of shape). Sounds familiar?
4. 'We will have to use extra blush to hide your pimples. Your face is full of them!'
Ever gone to get make up done at a parlour? Then you definitely must have heard about how oily/rough your skin has become and how badly those blackheads and pimples are visible on your face, ruining your look. Quick fix – you need 'expert' beauty tips and tricks and an extra layer of make up! Extra layer of foundation, extra layer of concealer or maybe even blush. The concept of a light make up is too farfetched!
5. 'Only clean-up will not help, you must get bleaching done too'
you have gone to the parlour to get one thing done, chances are that you will end up availing a minimum of 2 extra services! The logic given is that all 3 services are mutually exclusive and availing just one of them is not really going to help at all. Surprised how easy it is to convince you for this? Because just a regular facial or a clean-up has helped no one ever!
6. 'Where did all my money go? – Me to Myself At The Parlour'
Have you ever been convinced to use a higher quality product for the same service and ended up wondering where all your money literally just went? Well guess what, you aren't alone. Fruit facials end up becoming diamond and a normal waxing session ends up being a chocolate wax procedure. Yup, you are almost always convinced that it's the best suited for 'your skin' and yes, the struggle is always real.
7. 'Your hair is so frizzy, my hairbrush just doesn't go through them'
As if you yourself aren't struggling with your frizzy hair enough, trust the parlour lady to make you feel worse about it. Sentences like these always end with a suggestion to go for those highly expensive permanent hair straightening procedures.
8. 'Where do you work? How much do they pay you?'
Perhaps the first step to gauge how much you are able to afford is to get a fully detailed update on your current bank statement! You are often interrogated about your life, family, work and ultimately pay slip. It's all a trap!
9. 'Your underarms are really dark'
Yes, while getting your underarms waxing done, this statement is uttered quite often. As if you are not aware of your own skin tone or your body that people at a beauty salon always need to give you a validation for it.
10. 'You never use sunscreen or what?! The damage is irreversible'
Those blemishes, black heads, fine lines, dull skin and every other related skin flaw is probably because you have not been using sunscreen at all. Therefore now, your only resort is to avail those expensive facials, because the damage is permanent. Or that brand of sunscreen the parlous displays on the shelves…
Have you faced a similar situation? Tell us more by leaving a comment below and let's share our beauty parlour stories!