Videos you might be interested in
Videos you might be interested in
Videos you might be interested in
Suggested for you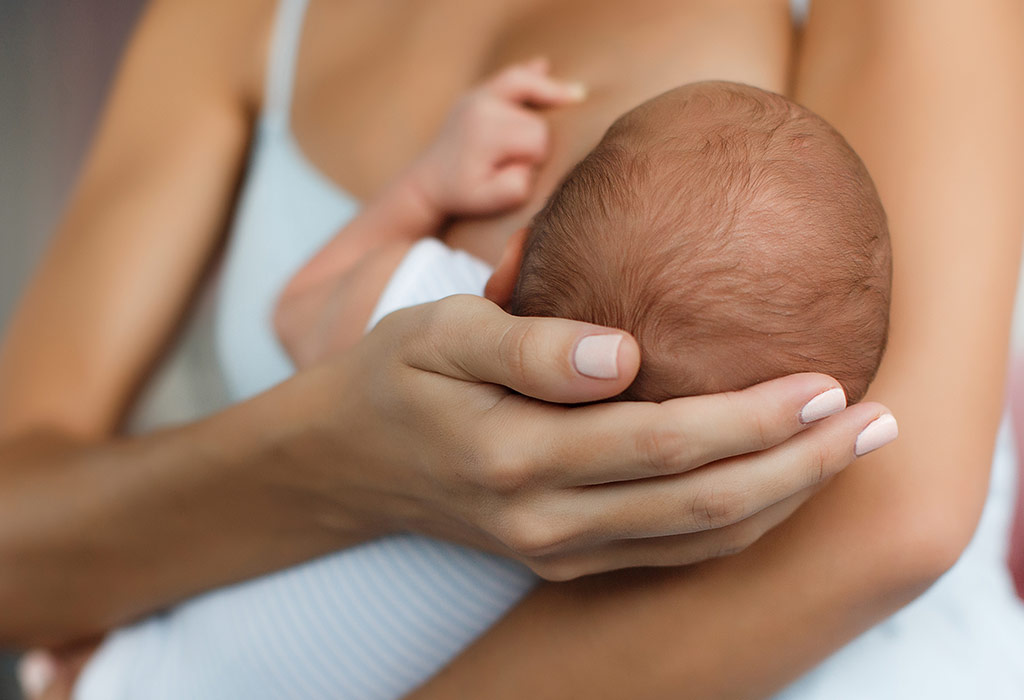 Baby Sweating during Breastfeeding - Causes & Remedies
It is quite normal for a baby to sweat while feeding. However, if there is excessive sweating, it could be a sign of an underlying medical condition. Before you make that doctor's appointment to get the problem checked, read this article to understand the baby sweating phenomenon. Reasons Your Baby Sweats While Breastfeeding Usually, a baby sweats because of the natural process by which he releases excess body heat. The baby needs to cool off naturally because: 1. Close Connection The close, skin-to-skin contact with the feeding mother increases the baby's body temperature. 2. Oodles of Energy Suckling needs a lot of energy. The movement of the jaw while suckling is a kind of exercise for the baby and the baby sweats as a result of putting in the effort. 3. Hot Head Have you also noticed the baby's head sweating while breastfeeding? Many mothers tend to hold the baby in the same cradle position while feeding. Often, the mother holds the baby's head in her palms in this position for a long time. This passes on more warmth from the palm, causing the baby's head to sweat. 4. Too Many Layers Sometimes, the baby is warm because of the many layers he is covered in. That may make him sweat. 5. Need for Fresh Air The feeding room may be cramped, stuffy, and without ventilation. This warm environment makes the baby sweat more while breastfeeding. However, there may be other reasons why your baby is sweating while breastfeeding - reasons that may require medical attention. We discuss that below. Why Does the Baby's Head Sweat? Sweating on the baby's head is caused by two main reasons: Only the baby's head has active sweat glands while the rest of the body does not have any. So, the head sweats more than the rest of the body when the baby is feeling hot, especially while feeding. The temperature of the baby's head is always higher than the rest of his body. Is It a Sign of a Health Issue? As new parents, one of the most natural concerns you may have is whether this is because of an underlying ailment. While mild sweating in babies is not usually a cause for concern, if you notice unnatural and excessive sweating on your baby's head, it may indicate a health problem. It could be any of the following: 1. Pulmonary Atresia It is a form of congenital heart disease that blocks the flow of blood from the heart to the lungs and the baby does not get enough oxygen. This happens because the pulmonary valve, which regulates the blood flow from the heart to the lungs, has a malformation and does not open. Excessive sweating while breastfeeding is a key indicator of this ailment. 2. Hyperthyroidism Excessive sweating can also be caused by an overactive thyroid gland or hyperthyroidism. 3. Infection With Fever The baby can sweat excessively if there is some sort of infection, accompanied by fever. 4. Sudden Infant Death Syndrome In extreme cases, some babies have a higher risk of Sudden Infant Death Syndrome (SIDS). They could show signs of excessive sweating. While there is no conclusive evidence of this connection, according to a study, a majority of mothers whose babies suffered from SIDS said that they noticed that their babies would sweat too much. 5. Congestive Heart Failure This ailment is caused by either a structural problem or a weak muscle in the heart. Hence, the baby's heart is unable to supply enough blood to the rest of the body. This ailment is marked by excessive sweating as well. Tips to Minimize Baby Sweating During Breastfeeding Now that you know the reasons behind this, you can take measures to make life more comfortable for your bundle of joy. Here are some tips and tricks to do that: Feed the baby in an airy room with moderate temperature. The room should ideally be neither too hot nor too cold. During the summer season, you and your baby should both wear soft, cotton clothes while breastfeeding. Even during winters, don't wear too many layers, heavy woollen clothes or clothes made of materials that may cause skin irritation and sweat. Try to wear light, soft, and warm woollens. Keep the baby's head bare to let it breathe while breastfeeding. Take off any cap or scarf from the baby's head before feeding. During winters, a cotton cap can be used to cover the baby's head. If you are breastfeeding the baby in public, you should preferably use a cotton nursing cloak to let the air circulate well. You and your baby should avoid polyester garments while feeding. Feed your baby from both breasts. That will ensure that your baby is not in one fixed position the entire time during feeding, and this movement will reduce heat from trapping. Do not assume that the baby is feeling cold all the time and overdress him/her in the process. Breastfeeding increases the baby's body temperature as he is putting in an effort while suckling, and also because he is in close contact with another human body. Too many layers of clothes can add to the baby's discomfort. You and your baby should not wear tight clothes during feedings. This will make both of you sweaty and uncomfortable. When to Consult Your Doctor You should consult your paediatrician if you notice these symptoms: Breathing Problems: Your baby is breathing too hard, too slow, or in gasps. Tiredness: You may notice constant lethargy or sleepiness, even during breastfeeding. Aversion to Feeding: You baby may not be eager to feed at all. Bluish Skin: In some rare cases, the baby skin may develop a bluish shade. Sweating while feeding is usually not a problem in babies, but in some cases, it may be due to an underlying medical condition. If your baby's sweating does not stop or improve despite trying the above-mentioned methods, please consult your doctor immediately. Also Read: Drinking Water During Breastfeeding
Read more
Suggested for you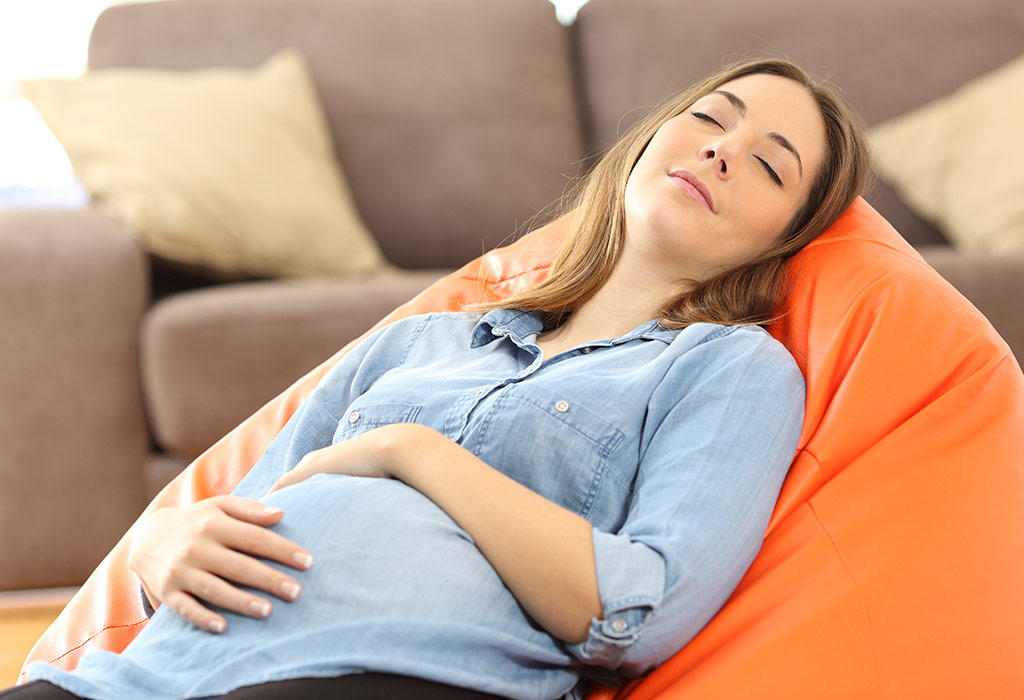 Dreams during Pregnancy: What They Mean and More
Pregnancy is a time when your body and mind undergo many changes. These changes affect your overall health, mental disposition and emotions in a big way. Your nine-month long journey will be exciting, exhausting and challenging in different ways. Pregnancy Dreams When you are pregnant, your body undergoes drastic changes, both physically and mentally. Whether this is your first pregnancy or a subsequent one, there will be many associated emotions with the physical and hormonal changes that affect you. This is also what triggers all your pregnancy dreams. Many women experience and clearly remember weird dreams during pregnancy. Others may wake up with no recollection. It is also possible you wake up and don't remember the dream, but you notice you are feeling anxious, or happy. This could be the emotional imprint of a dream. Bad dreams in pregnancy are not uncommon. The good news is that this is absolutely normal and is nothing to be overly concerned about. Why Do You Get Vivid Dreams When Pregnant? To understand this, we should first try to analyse what happens when we are asleep. Our sleep is divided into various stages, ranging from light sleep to REM (Rapid Eye Movement) sleep, and then deep slumber. Throughout the duration of our sleep, we experience about 4 to 6 sleep-cycles, which include the different sleep stages. Dreams occur during the REM stage of sleep.   Experts suggest that we wake up refreshed if we wake up at the completion of a sleep cycle. However, when pregnant, there are many disturbing factors that make continuous sleep difficult to achieve, and you make wake-up mid-cycle, or between cycles. Physical conditions like leg cramps, the need to urinate frequently, or being in an uncomfortable position can cause disruptions to the sleep cycle. As a result, you wake up in between a sleep cycle. If you were in REM sleep when you were awakened, your mind will vividly remember the images from your dream at that time. This is why you usually recollect your dreams with more detail when you are pregnant, and it is not that you have never seen similar dreams before. Is it Normal to Have Disturbing Dreams During Pregnancy? If you are feeling disconcerted by your dreams, it may help to know that several pregnant women have vivid and disturbing dreams. Tore Nielson, a Canadian expert on the subject, suggests that this is a normal phase of pregnancy. Eccentric dreams are the result of raging hormones, physical exhaustion and an underlying feeling of anxiety about this new role in life. Also, by virtue of being so anxious all the time, the stress hormone cortisol rises during the night, increasing the chances for odd or unpleasant dreams. The phenomenon is so common, that studies dedicated to the subject even identify typical dream themes that pregnant women experience. The themes usually change over the course of the pregnancy, and can be as intriguing as giving birth to inanimate objects, or struggling to swim through wide oceans and pools. What Do These Vivid Dreams Mean? One of the perplexing questions pregnant women struggle with after such dreaming episodes is "What do these pregnancy dreams mean?". Each month of your pregnancy is marked by certain physical and emotional changes that happen to your body. So, what you dream is closely linked to the themes that are common to each stage of your pregnancy. Let us decipher the meaning of the dreams you are likely to have during each stage. Pregnancy Dreams in the First Trimester Early pregnancy dreams often reflect the apprehension and anxiety you have about the upcoming months. Whether you are a new mother or an experienced one, you will be going through a new phase in your life and this can bring a flurry of emotions. You may dream of giving birth to something other than a baby, the baby just appearing one fine day or of conception in weird ways. This is usually tied to your concerns about a tough pregnancy or having a normal baby. Common dreams in early pregnancy Women in the first trimester of their pregnancy often experience dreams that show them giving birth to grown-up children or even adults. Although weird, the significance of this dream is understandable. This is often considered to reflect their apprehensions of handling a fragile newborn. A grown child is easier to handle, and makes the pregnancy less frightening. It may also be linked to a mother's basic tensions about missing her baby's childhood phases, if she has to return to work soon after the birth. Giving birth to a grown up child eliminates the concerns of not being with the baby during infancy. Water is another recurrent theme in early pregnancy. The pregnant mother may dream of aquatic life like fish, tadpoles or other sea creatures. The mother may also feel like she is swimming in vast bodies of water like oceans or seas. It is believed that this is simply linked to our biological origins. Most women are aware of the fact that their babies are safely cushioned in a fluid medium in their womb, when they are first conceived. This idea in their sub-conscious minds can trigger vivid dreams of water and factors associated with it. Pregnancy Dreams in the Second Trimester The second trimester is usually the time when pregnant women are most relaxed after initial pregnancy symptoms subside. Hence, it is easier to sleep at this time. Nonetheless, dreams during pregnancy second trimester are usually just as absurd. Your dreams will be closely linked to the attitude you have towards your pregnancy. Common dreams in this trimester In the second trimester, the pregnancy feels very real and the symptoms of a growing pregnancy soon become evident. Mothers are aware that the baby within their uterus is growing fast and may even be aware of what it resembles at each stage. So, many women in this stage dream of various animals. The young ones of animals may feature in your dreams, and it is usually of adorable little animals like pups, chicks and kittens. Occasionally, there may also be dreams of frightening and less appealing creatures, like snakes or fish. The basic understanding is that the animals you see will depend on your personal perception of your unborn baby. When you feel connected and happy during your pregnancy, your dreams will show animals you love. However, if you aren't entirely happy with your situation or frightened of giving birth, this will reflect in your dreams. Nightmares are rather common in this initial stage of pregnancy. The most popular one is about the father having an affair or abandoning you. As the pregnancy progresses, many women feel insecure about their looks. They may not be happy with the physical changes that their bodies undergo. This insecure feeling in their minds at this stage is the likely cause for such dreams. It is also a factor that women feel less independent at this phase. So, this tension in their minds and change in situation can trigger nightmares where they are stranded by the people they love. There is also the underlying worry of a hard delivery for which they will require their partner's physical and emotional support. It is basically their vulnerability to physical changes in their body that trigger such emotionally draining dreams. Pregnancy Dreams in the Third Trimester With the delivery looming near, worrying dreams may again resurface. In your sub-conscious mind, you may be worried about a difficult labour and delivery, about the life changes that will soon happen and also for the safety of your child. This can result in vivid dreams that can scare you. Your dreams of unfortunate incidents in life and unhappy situations simply reflect the apprehensions in your mind. The anticipation of seeing your child for the first time and knowing its sex can also result in dreams where you see such interpretations for the better or worse. Common dreams during third trimester With the delivery date soon approaching, many women in the third trimester dream of giving birth to a boy or girl. The sex of the child usually shows up in dreams at this stage. They may see the baby very clearly, and it will be discernible if the baby is a boy or girl. It is also likely that mothers at this stage see babies being born with characteristic traits they do not like in themselves or their partners. This is simply a reflection of the fears and worries that a mother may have in her mind. When she sees her baby inherit the traits she hates in her dreams, it is just her biggest fears being played out. At this stage parents have usually fixed or are in the process of considering likely names for their child. So, names are a recurring theme in maternal dreams in the third trimester. The names may range from absurd to very meaningful names. It could also be the easy way out for some mothers who are having a tough time deciding on the ideal name for their child. Nightmares During Pregnancy Scary dreams during pregnancy can occur at all phases of your pregnancy. These are absolutely normal, since you are going through many changes in your life. Even if you aren't openly bothered by the changes, it isn't unusual to harbour concerning thoughts about it. The different emotions that plague your mind often show up as nightmares or scary dreams. As your body grows bigger, your sleep is interrupted and you will feel exhausted. Inconsistent sleep schedules, a body that is too tired and many unanswered questions in your mind will combine together to create dreams that try to address these issues in bizarre ways. Expecting mothers have a lot of concerns for their unborn baby. They may worry that the baby may have undesirable traits, be unhealthy or unsafe. In such cases, they end up with nightmares about what they dread and this can greatly affect their attitude and disposition. In such cases, it is good to remember that this is your body's way of responding to the situation. However, such nightmares are not prophetic, and DO NOT reveal the future or the truth. What Can You Do About These Strange Pregnancy Dreams? If you find yourself constantly struggling with strange and worrying pregnancy dreams, it is best to tackle the situation instead of avoiding it. Firstly prepare yourself mentally with the assurance that these frightening or weird dreams are just your body's way of reacting to your current situation. You needn't worry about any of it coming true. Talk to your doctor if you need some reassurance. Next, address your sleep issues promptly. Although it is impossible to sleep continuously and comfortably throughout your pregnancy, you can always improve your situation. Make sure you aren't too exhausted by sleep time and that you use pillows and other comfortable items that enable you to get better sleep. If you suffer from night-time cramps, talk to your doctor and address the issue. With a few suitable lifestyle changes, you will attain better sleep and the frequency of your nightmares will also come down. Make a conscious effort to get peaceful nights' sleep and give your body the rest it needs for a healthy pregnancy.
Read more
Suggested for you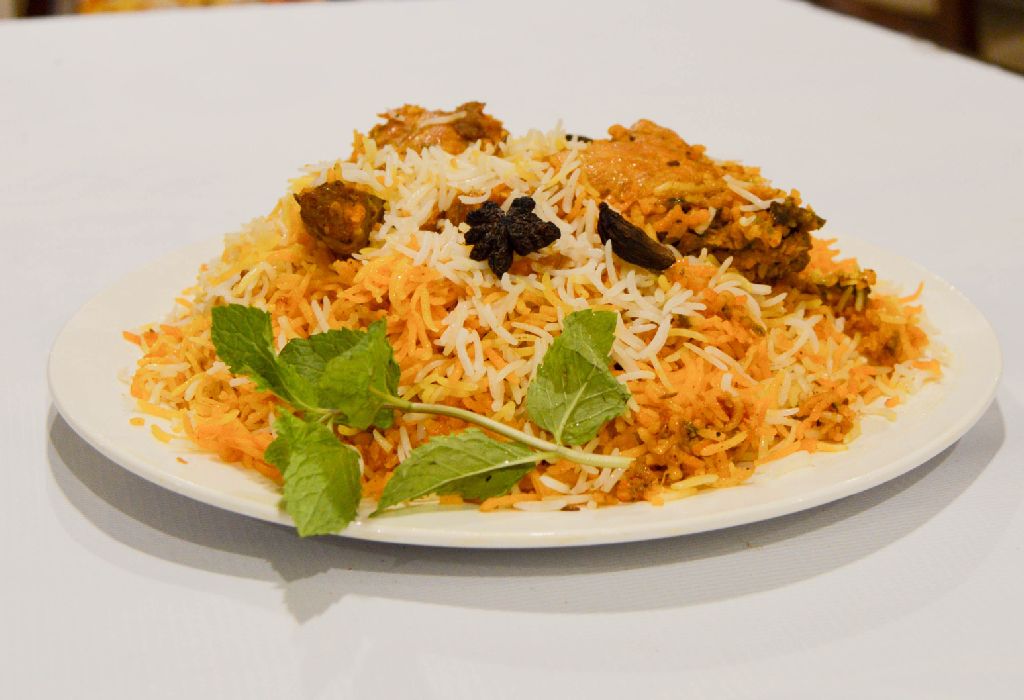 Chicken Biryani
This is a special rice dish which is made and served on special occasions like ceremonies and parties. Making this dish is pretty much effortless, you just have to marinate the chicken, sauté a few spices and mix in the cooked rice. We would suggest the use of ghee instead of oil to get a more authentic flavour. Serves Preparation Time Cooking Time 4 People 15-20 Minutes 30-45 Minutes Ingredients 200 g basmati rice 500 g chicken 2 onions, chopped 2 green chilies, slit 2 tbsp garam masala 1 tbsp lemon juice 2 tbsp saffron strands, soaked in water Oil for frying Ghee for frying 2 tbsp cumin seeds 1 tbsp coriander powder 2 tbsp red chilli powder 4 nos cardamom 4 nos cloves 2 tbsp garlic paste 2 tbsp ginger paste 1 potato, chopped 200 g thick yoghurt 1 small piece cinnamon 4 nos green cardamom 4 nos bay leaf A few mint leaves, torn 50 ml milk 50 g Cashew nuts Method For marination Step 1 In a bowl, whisk yoghurt, ginger garlic paste, coriander powder, salt, lemon juice, turmeric powder and red chilli powder. Also, add mint leaves to the bowl. Mix it together and add chicken pieces to the mixture. Allow it to marinate for 30 minutes. Step 2 Boil rice in a steamer. Once the rice is cooked, remove it from the water and keep it aside. Step 3 In a wok, fry sliced onions till they turn brown and crispy. Keep it aside in a plate. Step 4 In the same wok, add oil, cumin seeds, cloves, cardamom, bay leaf and cashew nuts. Saute fry it for 1 minute. Now, add chopped tomatoes and potato. Step 5 Add garam masala, red chilli powder and salt. Place one layer of rice in the pan, followed by chicken pieces. Next, add the fried onions over it. Again add a layer of rice, chicken pieces, onions and repeat a layer of rice. 7. Now, close the wok with a lid and allow it to cook for about 20 - 25 minutes. Step 6 Once the chicken is cooked, add saffron milk to the rice and cover it again for 2 minutes. Step 7 Garnish it with coriander leaves, fried onion and dry fruits. Step 8 Serve hot with boondi or pineapple raita. Nutritional Information Calories 548 Kcal Proteins 45.7 gm Total Fat 11.5 gm Total Carbohydrates 62.1 gm Cholesterol 115 mg Sodium 171 mg Potassium 876 mg  
Read more
Suggested for you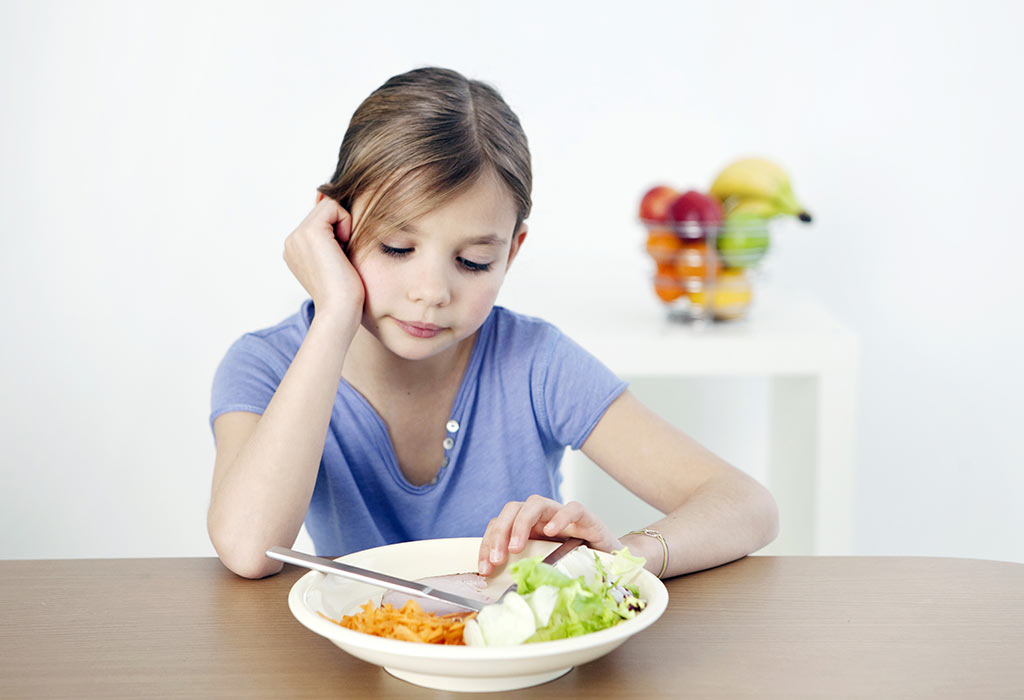 Anorexia in Children - Causes, Symptoms, and Treatment
As a parent, the diet of your child is one of the most important things that you should keep an eye on. Your child should eat healthy food from an early age. If you feed your child well from the start, not only will she grow up to a healthy person, but she will even maintain her dietary habits throughout her life. What is Anorexia Nervosa? When a child refuses to eat well so as to reduce weight and improve her body shape, she is said to be anorexic. This condition is common during teenage since children get conscious about their looks at this age. Physical attractiveness is given more importance rather than health, and consequently, your child starves himself to death slowly. What Are Its Types? Anorexia nervosa can be broadly classified into two types which affect children: 1. Restrictor In this type, the child consciously avoids consuming calories in order to reduce her weight. She is more focused on looking attractive, so she cuts down on eating carbohydrates and fats greatly. 2. Bulimia This type of anorexia is in direct contrast with the restrictor type, although the result is the same. The child eats more than she can manage, which is termed as 'binge-eating'. She then purges out all the food either by vomiting or using laxatives, or sometimes by both. This results in the clearing of the intestinal tract and the stomach and leads to severe malnutrition in the child. Which Children Are Most at the Risk of Getting Anorexia Nervosa? In most of the cases, a girl child is more prone to get affected by this condition at a young age. However, this condition is now increasing even in boys. Anorexia is something that affects children of all socioeconomic, racial, and ethnic groups without much difference between individual groups. What Are the Causes of Anorexia in Kids? There are many reasons as to why your child may be anorexic: 1. Psychological Factors In most cases, anorexic children have been found to develop a different mentality and psychological traits compared to normal children at that age. They are mostly depressed, as a result of how 'out of shape' they look compared to their peers. They are always under pressure to not gain weight, which negatively affects their eating habits and results in the child being unable to eat or handle the food she has eaten. 2. Environmental Factors Puberty triggers the release of hormones into a child's body, which can cause a jumble of mixed emotions at this age. Consequently, the child may get too self-conscious or even depressed about her weight. In some cases, peer pressure and bullying at school can also result in the child being anorexic from a young age. If the child is an active participant in strenuous exercises or weight bearing games, it can make her anorexic too. Other common causes observed include the loss of a loved one, divorce of the parents, and even physical or sexual abuse at young ages, as they harm the psyche of the child in a great manner. 3. Genetic Factors It has also been concluded after extensive research that children can have a genetic predisposition towards becoming anorexic. Children with a family history of colitis, arthritis, cirrhosis, and kidney failure are at a greater risk of being anorexic, compared to their healthier counterparts. Signs of Anorexia in a Child As a parent, you will definitely notice when your child is starting to become anorexic. Some of the symptoms she will exhibit are mentioned here, categorised into three types: 1. Physical Signs Fatigue Constipation Insomnia Dehydration Osteoporosis Dry skin Low blood pressure Abnormal blood counts Lack of energy Tooth decay Dizziness 2. Behavioural and Emotional Symptoms Social withdrawal Depression Denial of hunger Excessive exercising Fear of gaining weight Irritability 3. Habits of Your Anorexic Child to Lose Weight Frequently skipping meals Not eating in public Following a rigid meal plan Checking body weight repeatedly Eating only low-calorie or low-fat food Complaining constantly about gaining weight How is Childhood Anorexia Diagnosed? Although children may try to keep their efforts extremely private, parent or teachers will definitely see the symptoms of anorexia if they observe the child well. Otherwise, a child psychiatrist or a mental health expert will be able to diagnose what the child is going through, with your input as parents and by talking to the child privately. Treatments for Anorexia Nervosa in Children Since anorexia is more of a psychological disorder than a physical one, the treatment methods can vary greatly from child to child. The treatment also depends on the type of anorexia that has affected the child and has multiple stages to get through. The doctor may try to help the child gain necessary weight at first, especially if the child is suffering from severe malnutrition. The behavioural problems are then treated using psychotherapy and counselling, and the child is made to understand that body weight should not be given too much importance at any time. After that, healthy food habits are taught to the child, and the parents are expected to support their child through thick and thins to overcome the depression and stress that she might be feeling. What Are the Complications of Anorexia? The risks of anorexia in children include many disorders, like: 1. Heart Problems Malnutrition and repeated vomiting can cause low heart rates in children and a lot of other cardiac conditions. 2. Arrhythmias The heart rate of the child is irregular—either too fast or too slow. 3. Hypotension It can also lead to low blood pressure in children. 4. Electrolyte balance If the child uses laxatives or diuretics, it can result in the body losing its electrolyte balance and lead to fatal conditions like brain swelling. 5. Blood At least one-third of anorexic children have a low count of RBCs in their body. 6. Stomach The intestinal motility is severely affected when a child does not eat properly. 7. Kidney Anorexic children may either drink too much fluid, or too less, both the conditions are extremely harmful and result in electrolyte abnormalities or kidney stones respectively. 8. Endocrine Growth hormone levels also reduce with anorexia, and affected children might stop menstruating because of this condition. 9. Skeletal Bone density decreases with anorexia, and the child is at a higher risk of fractures compared to her counterparts. How Can Anorexia Be Prevented? There are no concrete methods for preventing anorexia in children, but early intervention can work wonders in terms of improving the health condition of your child. You need to look for symptoms of anorexia in young children and get the help of medical professionals if you have the slightest doubts. Anorexia is a psychological disorder that can affect the health of your child. You can talk to your child about eating disorders, but you have to get the help of qualified professionals if there is no improvement. Also Read: Aggression in Children - Reasons and Tips to Handle It
Read more
Suggested for you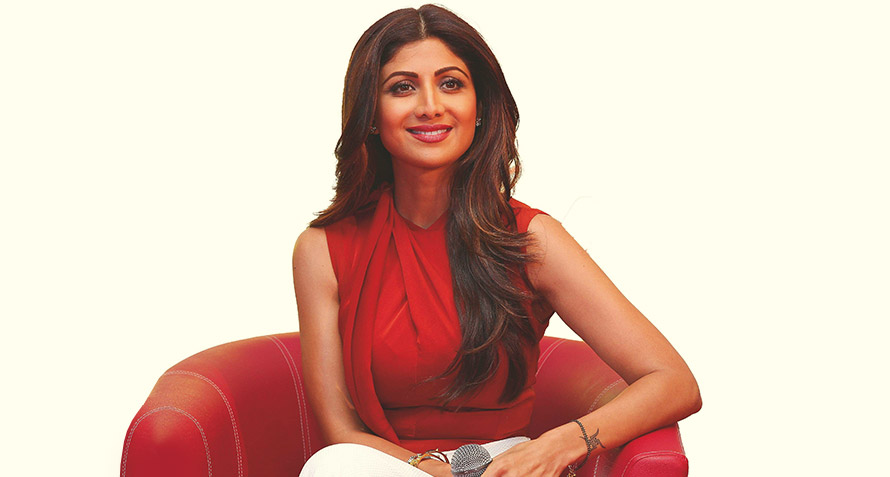 Shilpa Shetty Just Shared an Experience About Her Post-Baby Body That's Unbelievable But True!
There is a world of difference in our bodies before and after the birth of our baby. We gain weight, our skin feels loose, and our tummy protrudes. But we see these things as normal after-effects of childbirth. Unlike celebrity moms who seem to bounce back within weeks, we need to accept our postpartum bodies for a long time. We don't have that kind of money or time to splurge on quick and professional weight loss! However, it may be time to rethink this viewpoint. Recently, Bollywood mom Shilpa Shetty, who has always been the 'Fittest Mom', shared an experience about her post-baby body. It happened to her a few months after her delivery, when she was out having lunch with her husband Raj Kundra. Shilpa became mother to a baby boy Viaan back in 2012. After her delivery, she remained confined to the house for several months at a stretch. This is a common practice in India, when many moms remain confined indoors after delivery, to recover their health and devote complete attention to their baby. After seven months, Shilpa went along with her husband one day for lunch. This was one of her first times out in public since the birth of her baby, and she was already feeling nervous. Our body changes so much after we become mothers that it can be daunting to come to terms with it. But isn't this a normal part and parcel of motherhood? Doesn't it happen to everyone? Well, Shilpa hadn't prepared for what happened at the restaurant. "I didn't get out of my house for seven months (after the birth of my baby). After my delivery, I went with my husband for brunch. There were a few ladies sitting. They laughed. I heard them say, 'She hasn't still lost her weight'. They were laughing and talking about my weight. It was very daunting…" [caption id="" align="aligncenter" width="600"] Source: https://www.idiva.com/[/caption] Shilpa, who has always been synonymous with fitness, was actually being targeted for "being overweight" and "not losing weight fast enough" after the delivery of her child. When we look at her now, so fit and glowing at 41, it really seems incredible that she too, like many of us mothers, had to suffer so much pressure and body-shaming for something that is not even in our control. On Getting Her Mental Strength – and Body – Back The incident at the restaurant definitely shook Shilpa from within. But it also depicted the sad reality of our society: people will always judge. They will judge you for not losing baby weight; they will judge you for trying to lose it too quickly. As mothers, we are all targets for criticism and judgment; yes, celebrity moms included! Learning from that experience, Shilpa decided to shake off all this judgment and not hide away. Eight months after her delivery, she returned to work with the dance show Nach Baliye. Her body was still recovering and it was a challenge to come out in the public eye, especially when she looked a lot different from before. "Nach Baliye was my first outing after pregnancy, eight months after I delivered. I was very scared. Clothes weren't fitting me. I was size 16, double the size I've ever been in my life." She now started working on getting her pre-baby body back, not to shut out judgmental people, but because she wanted to do it for herself. Fitness had always been important to her, and as a mom, being fit and on her toes was now even more important than before. She did not take to strenuous gymming or crash diets as these are unhealthy ways to lose weight after pregnancy. Instead, Shilpa Shetty's fitness regime consisted of a 20 minutes workout, comprising simple activities like walking, taking the stairs, and yoga. The yoga pose Vajrasana has especially helped her get fit by boosting her metabolism and digestion. She recommends it to every new mother. [caption id="" align="aligncenter" width="648"] Source: https://www.instagram.com/officialshilpashetty/?hl=en[/caption] On Fellow Mom Kareena Kapoor Khan What Shilpa went through after her pregnancy is a situation that now faces Kareena Kapoor Khan. She recently became a mother to a baby boy, and she too, like Shilpa, has been synonymous with fitness. Bebo has always looked ravishing and fit and gone through incredible body transformations through sheer willpower and hard work. However, she gained 18 kgs during her pregnancy – kilos that will (and should) take time to shed. Shilpa spoke about her, commenting on how this "pressure to look good" is one that all moms face, everywhere: "As an actress, I can understand the emotion and pressure on her. I can understand that emotion of being judged, especially as an actress and someone who has been synonym with having a good body and being into fitness. I had the same pressure when I became a mother." Well, we are glad that Bebo too is taking it gradually and not obsessing about getting her pre-baby body back. She is relying on these post-pregnancy fitness mantras to recover her strength and strictly staying away from anything that is harsh or takes a toll on her postpartum body. Becoming a mother is a delight like no other. It is also a natural, transforming experience that changes your body in many ways. It is wrong to expect – or for anyone else to expect – that our bodies will bounce back to their old shape after delivery. Instead, this is a gradual and consistent effort we need to take to start feeling healthy and energetic again. We need to do this not to show our family members or friends. We need to do this for ourselves. Shilpa summed it up beautifully: "People love to talk about others but you've to understand what fitness means to you. It doesn't matter what other people think of you. It is a part of our life we are going to be judged anyway. When you're working, that gives you enough inspiration or goal. Some do it for their loved one, some for work, I think you've to do it for YOURSELF."
Read more
Dr Priyanka Kalra has added a new answer
Mom of a Newborn child
15 hours ago
Q.
#asktheexpert Hi My week 40 has begun. is it okay if my pregnancy goes beyond the due date .
Dr Priyanka Kalra
Obstetrician and Gynaecologist
9 hours ago
A.
no. better to show to specialist always as they get the correct diagnosis. try to avoid self and extra medication that will only complicate this and create more damage to the child
Dr Priyanka Kalra has added a new answer
Expecting Mom due this month
15 hours ago
Q.
I am experiencing tightening and streched with heaviness in stomach entire day. This is my 36 weeks pregnancy what to do kindly suggest
Dr Priyanka Kalra
Obstetrician and Gynaecologist
9 hours ago
A.
please get check up. do ultrasound n necessary tests after consulting a specialist. without proper check up we can't advise or help you.. Avoid shirt cuts when it comes to health if mother n baby. ok.
Sai Prasanthi R L has added a new answer
Guardian of 0 children
13 hours ago
Q.
#asktheexperts consepation is normal during pregnency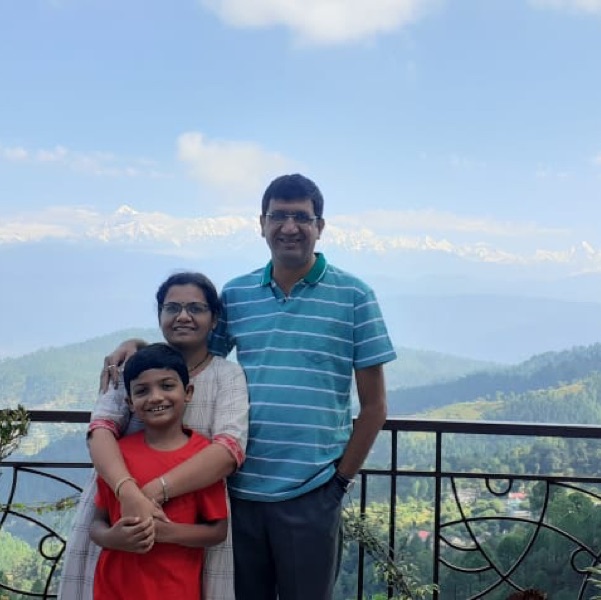 Sai Prasanthi R L
Mom of a 9 yr 7 m old boy
5 hours ago
A.
Hello dear! Include seasonal fruits and vegetables, green leafy vegetables in your diet. Increase the liquid and fibre intake. Consult your doctor for evaluation and advice. Good luck and take care
Dr. Minal Acharya has added a new answer
Guardian of 0 children
7 hours ago
Q.
Burping is alltime success process??

Dr. Minal Acharya
Nutritionist
6 hours ago
A.
dear parent, burping helps in digestion. you should burp baby after every feed preferably in sitting position for 15 to 20 minutes. keeping the head and chest at a level higher than stomach also helps.
Vandana Sharma has added a new answer
Expecting Mom due in 7 months
2 hours ago
Q.
#AskTheExpert what should be the possible diet daring pregnancy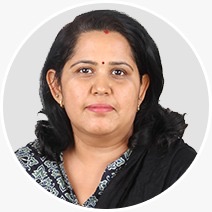 Vandana Sharma
Nutritionist
1 hour ago
A.
Hello mam have foods from various food groups , have small quantity rather than opting to heavy meals , keep yourself hydrated with fluids as well too, you may have natural foods such as seasonal fruits and vegetables , dry fruits and nuts ,dals , eggs if preffered , milk , ghee , panner etc rice , millets , roti
Rashmi has added a new answer
Guardian of 0 children
2 mins ago
Q.
5th mnth prgnancy me constipation ko kese thik kare
Rashmi
Mom of a 9 yr old girl
1 min ago
A.
Try this home remedy where you can apply castor oil on and around your naval that helps a lot in releasing constipation but apart from that you can ask your doctor if you can take some laxative during this time as that is also going to be helpful and try to consume good amount of fluids
Check out this new Memory

hh
Mom of a 1 yr 3 m old boy
New Memory
#walloffame
Check out this new Memory
Esha dixit
Guardian of a 8 m old boy
1 min ago
#happybaby
Check out this new Memory

Shruti Khandelwal
Guardian of a 9 m old girl
1 min ago
#happybaby #gandhiji
Check out this new Memory

seema thakur
Guardian of a 7 m old boy
1 min ago
#babyphoto
Check out this new Memory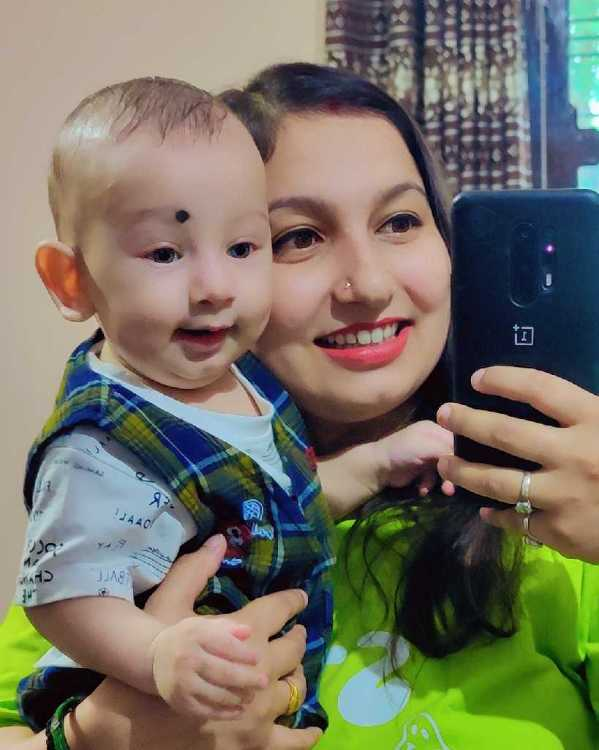 kanchan dogra
Mom of a 8 m old boy
2 mins ago
Tell us more about yourself get More Personalised